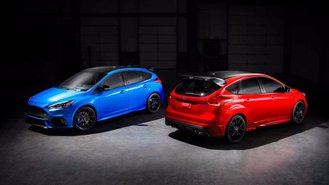 As a send-off to the fastest Focus offered here, Ford is giving the 2018 Focus RS a new version for buyers to consider.
Ford announced Wednesday it would offer 1,500 Limited Edition Focus RS models to US and Canada buyers for 2018. The cars get new design touches inside and out, such as different 19-inch wheels and a gloss black roof and mirror caps.
Inside, the Limited Edition is garnished with carbon fiber trim throughout, continuing with the RS2 package that also includes black sport seats and a power driver's seat.
From a performance standpoint, the Limited Edition gets a new mechanical limited-slip differential for faster cornering and improved traction. This is in addition to the torque vectoring all-wheel-drive system that all RS models already have, as well as the 2.3-liter, 350-horsepower turbocharged four-cylinder engine.
Ford's move to upgrade the Focus RS so late in its life could be driven by the raft of new competitors coming to market, most notably the Honda Civic Type R. The front-wheel-drive Civic is down 40 horsepower on the Focus RS, which might be advantage enough, but with press coverage ramping up ahead of the Type R's media launch in Montreal next week Ford could be taking the opportunity to steal a little thunder from a similarly priced rival.
Ford says it will offer 1,000 Limited Edition RS models to US buyers and 500 to those in Canada beginning in late 2017, when pricing will also be announced. Considering the cult following the Focus RS already has, expect these to go quickly as the current Focus RS drives off into the sunset.