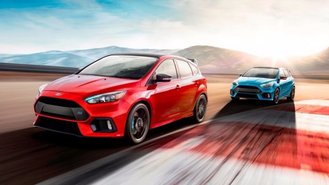 For its final year, the rally-inspired Ford Focus RS will be offered in a new limited edition. Although RS shoppers may be no strangers to high prices given the car's popularity and limited availability, they may be unprepared for what comes next.
Order guides reveal the power-packed car will be getting a $5,000 price increase when it goes on sale later this year. However, a closer look reveals that buyers will be getting a number of extra features that help justify the increase.
Here's what you need to know.
Going Out With A Bang
For 2018, the Focus RS will start at $41,995 with destination, representing a $5,000 increase over the previous year's price of $36,995. For reference, that puts the car quite a bit higher than the $38,095 base price of a 2017 Mustang GT Premium.
This will also potentially put the car higher than the upcoming Honda Civic Type R, which hasn't been officially priced yet but is expected to start at around $35,000. Year over year, this equates to a 13% price increase for the RS, considerably more than what we typically see.
That said, the RS will be getting some additional equipment for its final year of production. It will include a limited slip differential (LSD), the RS2 Package (leather Recaro seats, voice-activated navigation and more), 19-inch premium forged alloy wheels, carbon fiber interior trim and a black roof.
Is It Really An Increase?
Based on our analysis, a 2017 Focus RS with similar equipment comes in around $41,770. As a result, the real impact on shoppers who would have added these options anyway would appear to be minimal.
Offering a base version for this type of car isn't anything new. For example, at one point Volkswagen offered a version of the Golf R that started at $36,475 but it was only built in small numbers. The one dealers actually get always comes with Dynamic Chassis Control (DCC) and resulting MSRP of $40,195.
As always, shoppers should look at specs carefully to ensure they get their ideal set of features. However, with production capped at 1,000 units here in the U.S., we think it's possible enthusiasts may find themselves scrambling to get their hands on the RS while they still can.