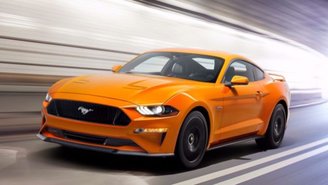 Ford is updating its popular Mustang for 2018, making some tweaks to the exterior, adding a fascinating new feature to the cabin, and of course, adding power and technology to the pony car's mechanicals.
We'll start with the big powertrain news, even though Ford isn't releasing specifics until nearer the Mustang's fall 2017 release. The updated 5.0-liter V8 adds direct gasoline injection, helping the GT's engine produce more power and reach a higher maximum engine speed – both important aspects of a muscle car like the Mustang. The 3.7-liter V6, formerly the realm of rental fleets, is dead for 2018, making the fun 2.3-liter, turbocharged four-cylinder the Mustang's base engine. Ford is promising more torque from its thrifty four-cylinder engine.
While six-speed manual transmissions come standard – and will doubtlessly prove popular with enthusiasts – a new ten-speed automatic replaces the old six-speed automatic and will doubtlessly become the Mustang's new popular transmission. Available on both the 2.3-liter model and with the 5.0-liter GT, Ford promises the new ten-speed shifts faster and responds faster off the line than the antiquated six-speed automatic on sale today.
Despite the Mustang's thoroughly mainstream status, Ford plundered the parts bin of the high-performance GT350 for important bits and pieces. The highlight is a new magnetic ride control that allows owners to instantly adjust the firmness of the suspension dampers, be it for comfort or outright handling ability. The advanced suspension tech is standard as part of the optional Mustang Performance Package. Ford also updated the GT's manual transmission, adding a twin-plate clutch and dual-mass flywheel to better handle the V8's power.
Ford is taking a page from Audi's book in the cabin, replacing traditional gauges on its Premium-trimmed models with a 12.3-inch digital instrument cluster. The new setup lends itself to customization, giving drivers different layouts based on which of the Mustang's drive modes is active. It's lovely and will likely be a popular optional extra.
We'll leave judgment of the exterior to customers. The internet hasn't been kind, since images leaked last night, but your author is a fan of the revised front and rear fascias. The new lights – LEDs in front and back – have real presence, while the lower front hood presents a more aggressive silhouette. Quad exhausts are standard on all GT models, as part of a revised rear fascia.
The 2018 Mustang hits dealers in the fall, with pricing and performance data arriving shortly before its on-sale date.