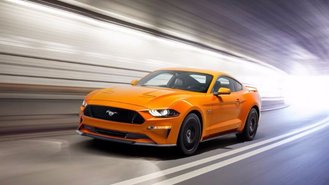 While fuel prices remain low, the reality is that a vehicle's fuel economy still plays a key role in the buying process. That's as true for family sedans and crossovers as it is for performance models, where government-mandated CAFE standards are driving a fuel economy surge even amongst sporty models. And that includes the 2018 Ford Mustang.
As we reported earlier this week, the refreshed 2018 Mustang will return up to 25 miles per gallon on the freeway with a V8 engine and the new ten-speed automatic transmission. Now, Ford has dropped all the info on the new model's fuel economy, and there are some peculiarities.
For a start, the ten-speed auto represents a big step up over the old six-speed automatic – the aforementioned 25-mpg highway rating works alongside a 16-mpg city figure to return 19 mpg combined. According to Ford, that's a 5.6-percent improvement over the 2017 Mustang GT with the automatic.
But the Mustang GT automatic still isn't dramatically more efficient than the same vehicle with a six-speed manual – the 2018 Mustang GT with its standard gearbox carries over 2017's fuel economy ratings (15 city/25 highway/18 combined). In other words, the ten-speed auto only gains one mpg in the city and combined ratings over the do-it-yourself shifter. And you can bet the manual will be much more entertaining.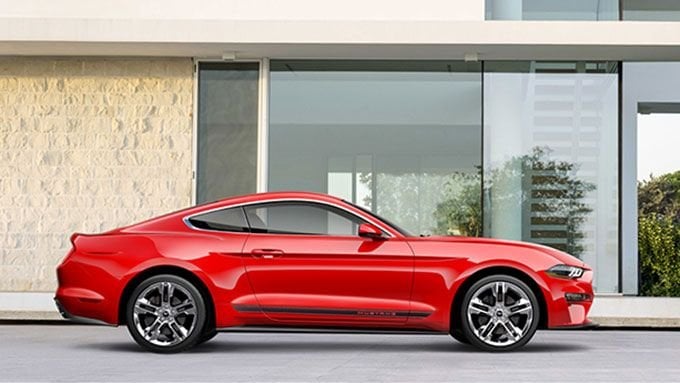 While slightly lower in terms of percentages, the fuel efficiency improvements for the Mustang's four-cylinder Ecoboost-powered model are no less important, as the 2.3-liter turbo has finally crested the 30-mpg rating. The 2018 Mustang Ecoboost will continue to return 21 mpg in urban settings, but it now pulls down up to 32 mpg (31 mpg with the manual transmission) on the freeway for a combined rating of 25 mpg. Those numbers represent a 4.2-percent improvement over the outgoing model, or for the mathematically challenged, it works out to two mpg freeway and one mpg combined with the automatic.
We'll be driving the 2018 Ford Mustang early next month ahead of its on-sale date in late fall 2017.