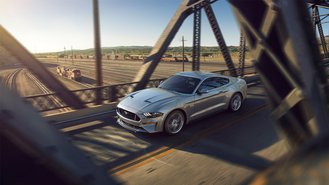 The Ford Mustang is getting a big facelift for 2018 and one of the options on the updated GT model is a performance exhaust system that costs $895. But while a sport exhaust usually amplifies the sound of the car, the one on the Mustang GT can also do the opposite.
The active-valve performance exhaust has four separate configurations – Normal, Sport, and Track are to be expected, but Quiet is what the fuss is all about. It reduces the sound of the Mustang's exhaust note, which isn't especially new. The Chevrolet Camaro, for example, has a Stealth mode for its exhaust. But Ford evolves on that concept by allowing owners to schedule the so-called Good Neighbor Mode, so you don't upset your neighbors if you're an early riser or late arriver.
It was suggested by former Ford vehicle engineering boss Steve von Foerster, after one of his neighbors called the cops on him because of the sound of his Shelby GT350.
"I love the sound of the V8, but it can be loud, and you can't annoy people like that in your neighborhood," said von Foerster. "It sounds so cool, but I thought, 'There has to be a way to give people more control over the engine's sound.'"
Ford has claimed that Quiet mode reduces the decibel-level of the Mustang exhaust by ten notes to 72 decibels, which makes it about as loud as a dishwasher. The American carmaker adds that people start to get bothered when the decibel range enters the high-70s.