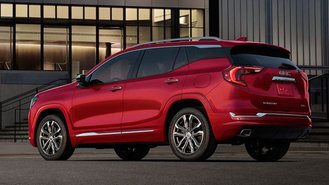 GMC has announced that base pricing for the 2018 Terrain will start at $25,970 for an entry-level SL trim (which is only available with front-wheel drive and top out at $40,245 for an all-wheel-drive Denali model when the redesigned crossover SUV reaches dealers later this summer).
There are two trims between the SL and Denali – the SLE starts at $28,795 while the SLT rings up at $32,295. GMC hasn't broken down specific pricing differences between the late availability 1.5-liter, turbocharged four-cylinder and the more potent 2.0-liter, turbocharged four, but the company did confirm the premium for the new 1.6-liter, turbodiesel four-cylinder. The super-efficient diesel powertrain costs an extra $3,770 on the SLE and $2,845 on the SLT. Regardless of trim or engine, all-wheel drive is a $1,750 option.
Although GMC touts it as a "premium compact," the new Terrain will face competition from inside the GM fold from its platform-mate, the 2018 Chevy Equinox. The well-equipped Equinox LT, which is the volume trim level, starts at $27,645, or a mere $1,675 more than the cheapest Terrain. And on the high end, a fully loaded, all-wheel-drive Equinox Premier retails for $38,650, or $1,595 less than a base Denali with all-wheel drive.
Despite GMC's attempt to position the Terrain as a more luxurious alternative to the Equinox and its ilk, it's hard to ignore its positioning in the industry's most important segment. Customers will likely cross-shop the Terrain against mainstream competitors like the Honda CR-V, Ford Escape, and Nissan Rogue – all vehicles that start around $24,000 on the bottom end and top out at or just over $30,000 before options. The Denali trim, meanwhile, will face even steeper competition, running up against models like the Acura RDX ($36,645) and Audi Q5 ($41,500).