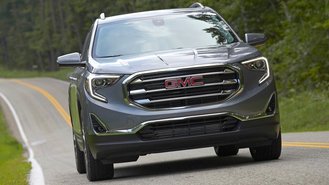 General Motors is issuing a recall for the 2018 GMC Terrain crossover that affects 88,000 vehicles. The problem is related to a faulty and defective sensor that could prevent the airbag from deploying in the event of a crash.
According to GMC, the problem lies in the sensor not activating when the vehicle is started. However, if the sensor is faulty, an error message will appear on the driver information center in the instrument cluster reading "Service Restraint System," which is accompanied by a warning chime. The failure of the sensor to activate is because it doesn't shut down properly when the vehicle is turned off.
GMC learned of the problem after a large number of Terrain owners visited dealerships with the warning message displayed. This happened earlier this year. So far, GMC says it's unaware of any incidents or injuries related to the faulty sensor or any airbags that didn't deploy when needed.
GMC will notify owners through the mail. GM says the recall doesn't affect the Chevrolet Equinox. GMC also doesn't know if the sensor affects one, some, or all of the airbags in the vehicle.
Dealerships will fix the faulty sensor through a software update. The fix is free and should take less than an hour to perform.