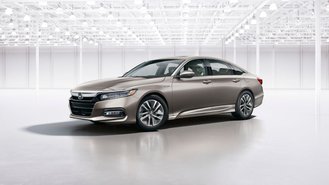 The EPA has announced fuel economy figures for the 2018 Honda Accord Hybrid. The good news is that the vehicle is incredibly fuel efficient for a mid-size sedan, getting 47 miles per gallon across the board – 47 mpg in the city, 47 mpg on the highway, and a combined rating of 47 mpg. The bad news is that last year's Accord Hybrid was more fuel efficient.
The 2017 Accord Hybrid was rated by the EPA at 49 mpg city, 47 highway, and 48 combined. Compared to the non-hybrid variants of the Accord, the hybrid trim is still a major step up in fuel economy.
The most efficient 2018 Accord is the model equipped with the 1.5-liter four-cylinder engine and the continuously variable transmission. This trim is capable of getting 30 mpg city, 38 highway, and 33 combined. Over the regular Accord, the hybrid variant has a combined rating that's 14 mpg better.
Compared to other mid-size hybrids, the Accord Hybrid is toward the top of the pack. The EPA rates the Toyota Camry Hybrid at 51 mpg city, 53 highway, and 52 combined. That's five mpg better than the 2018 Accord Hybrid.
The Accord Hybrid, though, is slightly more fuel efficient than the Chevrolet Malibu Hybrid, which is rated at 49 mpg city, 43 highway, and 46 combined. While the Malibu Hybrid is more efficient in the city, it lags behind the Accord Hybrid on the highway and in its combined rating.
Two other hybrid sedans, the Ford Fusion Hybrid and Kia Optima Hybrid, trail the Accord Hybrid with their fuel economy figures. Ford's is rated at 43/41/42 mpg, while the Kia gets 39/46/42 mpg.
Honda is staying quiet on pricing for the 2018 Accord Hybrid and hasn't stated when consumers will be able to pick one up at their local dealership. With the EPA's official fuel economy figures going live, we shouldn't have to wait that much longer to see the hybrid in showrooms.