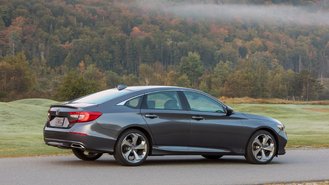 The Honda Accord is all-new for the 2018 model year and it arrives without its traditional V6 offering. Instead, the Accord gets a turbocharged 2.0-liter that shares its design with the engine in the high-performance Civic Type R. However, the Accord uses a smaller turbocharger for improved performance.
Output for the turbocharged 2.0-liter rates at 252 horsepower and 273 pound-feet of torque, which means the 2018 Accord offers the highest torque output ever in its history. There's a new 10-speed automatic transmission or an optional short-throw six-speed manual, which is exclusive to the Accord Sport trim, the lowest trim to get the high-output engine.
Pricing for the base 2.0T Sport model starts at $31,200 (prices include the $890 destination and handling charges). The Accord 2.0T EX-L starts at $32,860 and the EX-L Navi adds $1,000, starting at $33,860. The top-of-time-line Touring trim starts at $36,690.
The 2018 Accord 2.0T sees its best fuel economy with the EX-L and EX-L Navi trims, both returning 23 miles per gallon in the city and 34 mpg on the highway for a combined EPA fuel economy rating of 27 mpg.
The Sport trim with either the automatic or manual transmission and the Touring with the 10-speed automatic returns 22 mpg city and 32 mpg highway for a combined rating of 26 mpg, due in part to their larger rolling stock.
The 2018 Honda Accord 2.0T is on sale now, joining the already-available 1.5T model. An Accord Hybrid model is coming early next year.