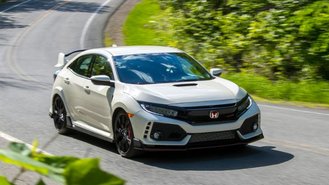 Honda continues to raise the price of its range-topping hot hatch – the Civic Type R. Last November, the Japanese automaker increased the price tag by $215 for the 2018 Civic Type R. The change saw the vehicle's MSRP rise from $34,775 to $34,990, including the $890 destination charge. Now, Honda has jacked up the price on the Civic Type R once again, but this time, it's a larger increase.
Starting on May 1, the 2018 Honda Civic Type R has a starting price tag of $35,595, including destination. That includes a $600 increase in MSRP for the Type R and a $5 increase to the destination charge, which affects all Honda cars. Honda also announced that the base price on all other Civics will rise $100, too.
With production of the Ford Focus RS officially coming to an end earlier this April, the Volkswagen Golf R is the only real competitor to the Civic Type R. The Golf R, though, costs $5,040 more than the Honda. The Subaru WRX STI may not be a hatchback, but it has similar performance. The sedan has a price tag that's $1,360 more than the Civic Type R.
Even with the increased price tag, the 2018 Honda Civic Type R is still a good value proposition. The vehicle doesn't have any new features and there are no real available options, but the Touring trim, which is the only available model, is still packed with all sorts of goodies. Sport seats, 20-inch wheels, grippy Continental tires, Brembo brakes, navigation, and a 7.0-inch touchscreen are all standard.