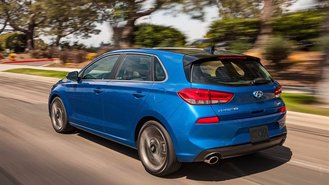 Hyundai has announced the price of the 2018 Elantra GT, which made its debut at the Chicago Auto Show earlier this year.
The entry-level GT model retails at $20,235 (including $885 in destination). It packs a 2.0-liter four-cylinder engine that makes 161 horsepower and 150 pound-feet of torque and is paired to a six-speed manual gearbox. A six-speed automatic transmission is available, but for a $1,000 premium.
Meanwhile, those who desire more performance, can opt for the Elantra GT Sport and its 1.6-liter turbo. Like in the standard Elantra Sport, this engine pushes out 201 hp and 195 lb-ft of torque. It is priced at $24,135 for the manual trans variant and $25,135 for an automatic – unlike the standard Elantra GT, the Sport gets a seven-speed dual-clutch automatic that promises faster shifts for improved performance. In both the models, power is sent to the front wheels.
Like a lot of Hyundai's, the Elantra GT undercuts its closest rival, the Volkswagen Golf Sportwagen. Priced from $21,580 to $29,970, the Volkswagen may represent a more premium offering, but for those that simply need space, the Elantra GT is hard to beat. It's also worth mentioning that the Sportwagen doesn't have a GTI variant – like the standard Golf – to match up with the Elantra GT Sport.