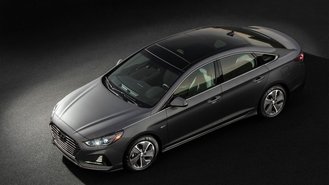 The 2018 Hyundai Sonata Hybrid is getting a price cut. The 2017 Hybrid SE started at $26,835 (including an $835 destination charge), but for the 2018 model year, the vehicle is now priced at $26,385 (although the destination charge jumps to $885). The savings aren't just for the base SE trim, as the range-topping Sonata Hybrid Limited also gets a price decrease, although it's only down $400.

The South Korean automaker has also reduced the cost of the Limited Ultimate Package for the new year. The package now costs $3,850, down $650 from last year. Despite the price difference, the package brings even more features.

New features for the Ultimate Package include forward collision warning, a driver attention warning system, a heated steering wheel, manual rear window sunshades, a wireless charge pad, and Hyundai's BlueLink guidance system. The latter provides owners with the quickest route to their destination and provides traffic alerts, points of interest, restaurant ratings, and more.

Besides the drop in price, the Sonata Hybrid doesn't change much for 2018. The base SE trim gets the automaker's BlueLink Connected Car system as standard. Blind-spot monitoring with rear cross-traffic alert, HID Xenon headlights, and a second-row USB charge point, have been added to the Hybrid Limited trim, as well.

With the price drop, the Sonata Hybrid is one of the more affordable midsize hybrids on the market. Compared to the Ford Fusion Hybrid S, Honda Accord Hybrid, Toyota Camry Hybrid LE, and Chevrolet Malibu Hybrid, the Sonata Hybrid is one of the cheapest offerings. The Accord Hybrid is $400 less, while the Fusion Hybrid S is more affordable by $110. Still, the Sonata Hybrid is roughly $2,400 cheaper than the Camry Hybrid LE and the Malibu Hybrid.

Prices for the Sonata Plug-in Hybrid haven't been announced yet, but we expect that vehicle to get a modest price decrease, as well.