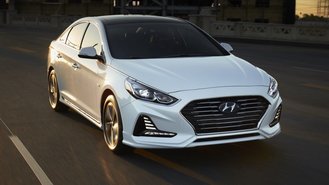 While Hyundai released pricing information on the 2018 Sonata Hybrid earlier this year, the automaker has been sitting on information on the plug-in hybrid variant – until now. Hyundai announced pricing for the 2018 Sonata Plug-In Hybrid and it's more affordable than before.
The new Sonata Plug-In Hybrid model, which is already at dealerships, is priced from $34,135 (all prices include the $885 destination charge). Last year's model started at $35,485, so the new Sonata Plug-In Hybrid is $1,350 cheaper than the 2017 model. That's a noticeable decrease in pricing, especially for a model that receives some new features. The range-topping Limited trim costs $39,735, which is $250 more than last year.
In addition to tweaking the Sonata Plug-In Hybrid's pricing, Hyundai has improved the vehicle's all-electric range by one mile – hey, every little bit helps. The 2018 model can travel 28 miles on nothing but electricity, while the old variant could only travel 27 miles.
New features have been added to the 2018 Sonata Plug-In Hybrid, too. The base trim can be fitted with forward collision warning, automatic emergency braking, lane departure warning, lane keeping assist, a wireless charging pad for mobile devices, a heated steering wheel, and bi-function LED adaptive headlights.
The Limited trim gets a lot of the same new features as the entry-level model, but pedestrian detection to the automatic emergency braking system, a driver attention alert, and an additional USB port for the second row.