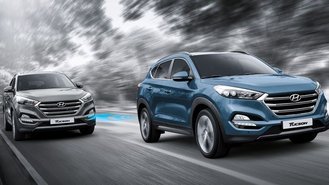 With an overall slide in vehicle sales on its hands, Hyundai is adding a new Sport version of its popular Tucson crossover in an effort to bolster its lineup.
Positioned between the mid-tier SEL and SEL Plus, the Sport adds distinctive design touches and convenience features, while lowering the price of entry to get additional safety tech.
Unlike most instances in which "Sport" is used in the loosest sense, Hyundai is actually adding a third engine option that will make it the most powerful Tucson you can buy.
Here's what you need to know.
Editor's Update: Hyundai has issued its first photo of the Tucson Sport (below) as well as engine output. We've updated our article accordingly.
More Features
Order guides show the 2018 Tucson Sport began production last month priced from $26,130 including a mandatory $980 destination charge. You can also choose an all-wheel drive version for an extra $1,400, bringing the price tag to $27,530. That makes it $1,350 more expensive than the Tucson SEL and $1,550 less than the SEL Plus.
On top of what you get with the SEL, the Sport adds a more distinctive front and rear fascia, 19-inch wheels, dual chrome exhaust, side mirrors with turn indicators and LED approach lights mounted in its door handles. Inside, the Sport adds a leather-wrapped steering wheel and shifter, a proximity key with push-button start and dual automatic climate.
You'll also get a blind spot monitor with cross-traffic alert and lane change assist, something you previously could only get when upgrading to the SEL Plus. However, potential buyers may be more interested to learn that the Sport adds the brand's familiar 2.4-liter naturally-aspirated 4-cylinder engine paired with a 6-speed automatic transmission.
A More Powerful Alternative
Output for the 2.4-liter Tucson will come in at 181 hp with 175 lb-ft of torque. That's slightly less than the 185 hp and 178 lb-ft ratings of the 2.4-liter Sonata and Santa Fe Sport.
As it stands, the Sport is set to be the most powerful version of the Tucson that you can buy based on horsepower. It'll also be the only trim level available with that particular engine.
The Sport sits above the 2.0-liter base engine rated at 164 hp and 151 lb-ft and the 1.6-liter turbo with dual-clutch transmission that makes 175 hp and 195 lb-ft. Unfortunately, fuel economy figures from the EPA put the 2.4-liter Tucson at 24 mpg overall, which is 2 mpg less than the 2.0-liter and 3 mpg less than the turbo.
Despite that fact, the Sport could end up being an attractive choice next to competitors.
The Nissan Rogue is rated at 170 hp and 175 lb-ft, while the Toyota RAV4 sits at 176 hp and 172 lb-ft. The Honda CR-V sits a bit higher at 190 hp with 179 lb-ft with its available turbo engine.
Tucson sales have been strong, with the brand reporting a 31% increase in vehicles sold last month compared to the year before. Through February, Hyundai sold a total of 16,076 Tucsons, compared to just 12,727 Sonatas.