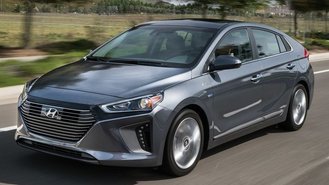 Even though the Hyundai Ioniq Electric is only offered in California, the 124-mile EV benefits from an unusual "subscription lease" offering unlimited mileage, charging reimbursements and free routine maintenance.
However, the latest pricing documents show the 2018 model is set to receive a $3,500 price increase on the range-topping Limited. Here's a look at what's behind the increase and whether or not that should stop you from buying.
More Equipment
On the surface, the 2018 Ioniq Electric looks like merely a carryover of last year's car. The entry-level model will continue to have a range of 124-miles and a starting price of $30,385 including destination.
Similarly, the Limited looks largely unchanged on the surface, but now features an MSRP of $36,885, $3,500 more than last year's sticker price of $33,385.
So what's behind the increase?
In this case, the answer is simply that Hyundai has made a number of features that used to be optional in the Limited Ultimate standard in the Limited. The $3,500 lines up exactly with the cost of last year's Limited Ultimate Package.
Hyundai says the model was "simplified," but what this really means is that a number of advanced extras now come bundled by default in the Limited. Some of the more notable features include:
automatic emergency braking
blind spot detection
lane departure warning with lane-keeping assist
adaptive cruise control
leather interior
power sunroof
Infinity audio system
As a result, there's now a $6,500 difference in price between the Base and Limited, with no option to choose a mid-level trim.
Should that stop you from buying? Not necessarily.
Big Step Up
The 2018 Ioniq Electric Base comes pretty well-equipped with features like DC fast charge capability, 16" alloys, heated front seats, automatic climate, LED taillights, a 7" touchscreen with Android Auto and Apple CarPlay and more.
Special offers on the 2018 model haven't been announced. For reference, the 2017 version starts at $275 for 36 months with $2,500 at signing, with the assumption that lessees will be eligible for the $2,500 Clean Vehicle Rebate to effectively turn this into a $0 down lease.
The Limited is positioned at $305/month, just $30 more than the Base, while the Ultimate starts quite a bit higher at $365. For those keeping track, that's a $90/month difference in price between the base model and top-level trim.
If you're planning to drive a ton, the Ioniq EV can equate to an outstanding value when leased since there isn't a traditional mileage constraint. However, shoppers should be prepared for just two options to choose from for 2018: a base model and one loaded with everything.