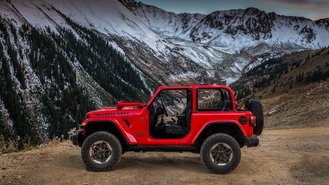 At this year's SEMA show, the off-roading public got what it's been waiting to see – a first look at the all-new 2018 Jeep Wrangler. The reveal, which has little information other than a few photos and a basic overview, is the public's first look at the new SUV ahead of its official debut later this month.
Jeep says the 2018 Wrangler will come with fuel-efficient powertrains, but what specifically those powertrains are remains unknown – it's widely suspected that a 2.0-liter, turbocharged four-cylinder and a 3.6-liter V6 will be on offer, with a diesel joining the lineup within the next few years. The 2018 Jeep also comes with more safety features and advanced technology. Again, Jeep isn't providing specific details just yet, but it's easy enough to make educated guesses based on the rest of the brand's lineup.
The 2018 Wrangler's overall design looks similar to the outgoing model's, but there are several styling differences upon closer inspection. Jeep's iconic round headlamps, keystone-shaped grille, and square taillights continue on the new model.
Jeep says there will be more open-air options, including a power-sliding roof. That's in addition to Wrangler hallmarks like the folding windshield and stowable canvas top. The new Jeep will have dozens of different door, top, and windshield combinations, too. The new design also gives the 2018 Wrangler improved aerodynamics.
Jeep will release all the details on the 2018 Wrangler November 29 at the Los Angeles Auto Show when the new SUV makes its official debut. Stay tuned.