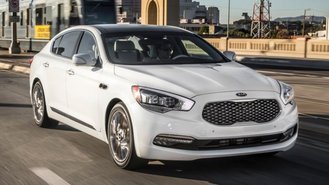 Order guides reveal the slow-selling Kia K900 will benefit from an increase in standard equipment for the 2018 model year. However, our analysis shows prices are increasing as a result— in some cases, by up to $5,000.
With a completely redesigned K900 set to be unveiled for 2019, the changes are an effort to boost the model's value proposition and bring the Luxury trims closer together in terms of features and price.
So is the K900 really a better value?
Here's what you need to know.
More Gear, Higher Price
Recent order guides show the 2018 Kia K900 V6 Premium, the entry-level style, will now come standard with a shift-by-wire gear selector like the more expensive V6 Luxury.
Buyers will also now get upgraded wood interior trim, a heated steering wheel and dual-open center console. Pricing will start at $51,850 including destination, a $1,000 increase over the previous year.
Bigger changes are coming in the mid-level V6 Luxury model. The car will now come standard with everything included in the current VIP Package.
Notable features now standard in the V6 Luxury include:
16-way power driver's seat with extendable cushion
Power-adjustable headrests
Power reclining ventilated rear seats with power lumbar support
Power soft-close doors
Head-up display with speed, navigation info and more
360-degree surround view monitor
Autonomous emergency braking
Lane departure warning
Adaptive cruise control
Unfortunately, getting the VIP treatment doesn't come free. That's because Kia has increased the base price of the vehicle by $5,000, which is exactly what all that gear costed when it was optional.
As a result, the V6 Luxury will now start at $60,850, precisely $2,000 less than the range-topping model. The V8 Luxury will see no changes in equipment and will continue to start at $62,850.
Curiously, the V8 will not be getting the VIP Package included in its roster of standard features. As before, it will remain a $6,000 option, offering added touches like quilted Nappa leather seats and upgraded tires.
Under the hood, no changes are coming in terms of engine output. As before, buyers can choose from a naturally-aspirated 311 hp 3.8-liter V6 or a 420 hp 5.0-liter V8.
Big Lease Discounts
According to Kia, the company sold just 32 K900 sedans last month. However, unlike most Kias, the car continues to feature no cash discounts to speak of. At least not on the surface.
In the case of the current model, there are zero rebates for buying, but up to $15,550 in incentives to help the automaker offer competitive lease payments.
This month, the 2017 K900 V6 Premium is listed at $429 for 36 months with $2,999 at signing, an effective cost of $512/month. That's almost $200/month less than the cheapest BMW 5-Series.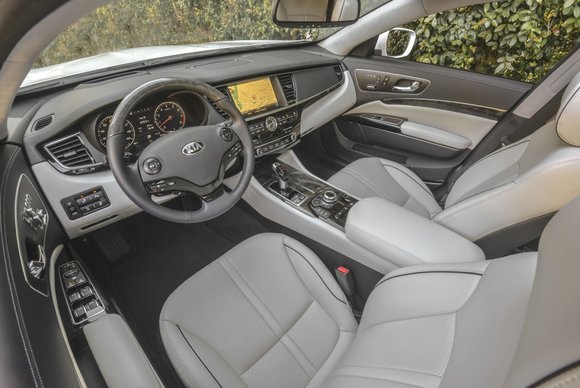 More traditional choices like the 530i may start at a similar price of $53,645, but offer vastly different features. In the case of the 530i, the car comes with a less-powerful 248 hp 4-cylinder turbo and leatherette seats.
The more-expensive 540i starts at $59,195 and features a 335 hp 6-cylinder turbo. However, adding a full range of driver assistance tech and upgraded seats easily brings the price to nearly $70,000.
Will the increase in equipment help sell more K900s? That remains to be seen. We suspect the car will continue to be a niche vehicle limited by the fact that not all dealers are authorized to sell it, making it a bizarrely hard-to-find vehicle.
Having said all that, some shoppers may be left wondering whether the Genesis G80 presents an even better value in a more stylish package given that you can configure the 3.8-liter Ultimate model for just under $53,000.
Pictured: 2017 K900