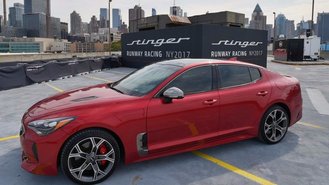 The 2018 Kia Stinger is a departure from the norm for the Korean automaker that has become a household name by making affordable, feature-heavy cars. While we knew the Stinger would be priced more competitively than other sporty sedans, like the Cadillac ATS and BMW 3-Series, Kia was keeping the price of the sedan close to its chest. Well, pricing for the Stinger has hit the web and it's even better than we thought it would be.
According to a report by CarsDirect's sister site, The Car Connection, a base Stinger that's powered by a 255-horsepower 2.0-liter turbocharged-four-cylinder engine will start at $32,795, including the $895 destination fee. Bumping up to the twin-turbo 3.3-liter V6 that generates 365 hp raises the starting price to $39,895. Power is sent to the rear wheels as standard, but all-wheel drive is available for an additional $2,200.
Consumers looking to get a fully-loaded Stinger with all-wheel drive and the 3.3-liter V6 will have to plop down approximately $51,000 for the sedan, TCC reports.
The Car Connection also claims that the Stinger will be offered in five different trim levels: Base, Premium, GT, GT1, and GT2. Both the Base and the Premium trims will feature the turbocharged-four-cylinder engine, while the V6 engine will power the GT, GT1, and GT2 models. In addition to exclusively being powered by the V6 engine, The Car Connection reports that the GT trims will also come with Kia's electronically controlled suspension system – something not offered on the turbo-four models.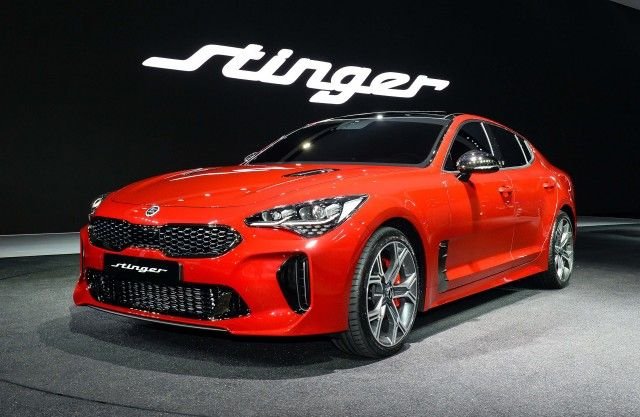 With a claimed zero to zero-to-60 time of 5.9 seconds for the base Stinger and 4.7 seconds for sedans with the V6 engine, Kia claims its first real performance car is on the sportier side of things. And when comparing the Stinger to tried-and-true competitors, Kia's sedan looks like a good value proposition.
The BMW 320i, Cadillac ATS sedan, Audi A5 Sportback, and Infiniti Q50 all cost more than the Stinger. The cheapest competitor from the aforementioned group is the Q50 that has a starting price tag of $35,195 ($995 destination fee included), roughly $2,400 more than the Stinger. And the most expensive contender, the A5 Sportback is priced at $43,575, which includes the $975 destination charge. That's a difference of nearly $11,000 and it's not like the Audi has more power either, as the Stinger has three more horses than the 2.0-liter turbo in the Audi engine.
Look for Kia's sporty sedan in showrooms later this December.