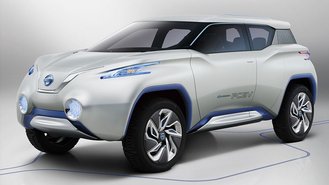 The next-generation Nissan Leaf's platform will serve as the vanguard for a range of electric cars, reports UK publication Autocar.
While not many details are known about the new range of vehicles, it is likely that the first one will be an electric SUV – because of course it would be – possibly badged the Terra. Nissan showed a zero-emission concept car of the same name at the 2012 Paris Auto Show. The SUV will sport the same chassis and battery pack as the new Leaf, which will be launched on September 5.
Early reports suggest the Leaf will be powered by a 60-kilowatt-hour battery, although that's only part of the story. The new Leaf will likely be available with different ranges – CarsDirect's sister site, Green Car Reports, claims that the base Leaf should return at least 200 miles per charge, while a pricier variant will likely improve on that figure.
The Terra will take a similar approach, although unlike the Leaf, an all-wheel drive system seems likely. How Nissan will add all-wheel drive without attaching separate electric motors on each axle – like Tesla does for its all-wheel-drive vehicles – should prove interesting. In the concept car's case, Nissan added a hydrogen fuel-cell on the rear axle to create an all-wheel-drive powertrain. Don't count on that kind of tech in the production Terra.
On the pricing front, the shorter-range Terra will retail just above the Tesla Model 3, likely coming in below $40,000. That should allow Nissan's first electric crossover to comfortably undercut the upcoming Jaguar I-Pace and the Audi e-Tron electric crossovers.