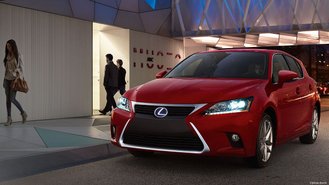 It's been around for six years now, but the Lexus CT 200h is still serving as that company's least-expensive model. Or at least, it was until earlier this year.
Lexus announced earlier this month it would drop the CT from the US lineup this year, but it has given a light round of modifications as a final send-off in other markets.
As reported by our sister site, Motor Authority, the 2018 CT 200h's changes consist primarily of light exterior revisions to the grille and lights, which will be mostly unnoticed by all but the most devoted of Lexus fan. The revisions are meant to bring the aging CT more in line with more recent Lexus car designs, such as the IS and GS sedans.
A larger 10.2-inch infotainment screen is now available inside, an upgrade over the old 7-inch unit that's still standard fare. But there have been no changes to the CT's cramped interior space and relatively small cargo area. It still soldiers on with a gas-electric powertrain producing 134 horsepower – far behind other compact luxury vehicles these days.
But the 2018 CT won't go on sale in the US and dealers are now clearing out the last of the 2017 models. Lexus' upcoming UX crossover, which is expected to be available as a hybrid, will effectively replace the CT in the company's line as early as next year.