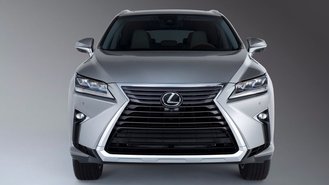 Lexus unveiled the 2018 Lexus RX L at this year's Los Angeles auto show, bringing the RX more in line with its competitors such as the Acura MDX.
Both the Acura and the Lexus have three rows of seats as standard. The front-wheel-drive RX L starts at $48,665 (prices include destination and handling) while the all-wheel-drive model starts at $50,065. The non-L, front-wheel-drive RX starts at $44,215.
To accommodate the addition of a third row and two extra seats, Lexus extended the RX L's body by 4.3 inches at the rear and added a steeper angle to the rear window. Along with the added length and headroom, Lexus raised the second-row seats to increase foot space for third-row passengers.
There are two versions of the RX L – one that seats six and one that seats seven. The second row is either a bench or captain chairs. For RX L's equipped with the bench, a button slides and folds the second-row seat forward. The captain chairs allow ingress and egress without having to move the second row of seats due to the large space between the two. Lexus says the third row offers the same level of comfort as the second row, and full-length side-curtain airbags cover all three rows.
The RX 350L packs a 290-horsepower 3.5-liter V6 engine making 263 pound-feet of torque. All-wheel drive is optional while front-wheel drive is standard. There will be a hybrid version as well – the 450hL, which pairs the 3.5-liter V6 with two electric drive motor-generators. Combined output is 308 hp.
The 2018 Lexus RX L goes on sale later this year.