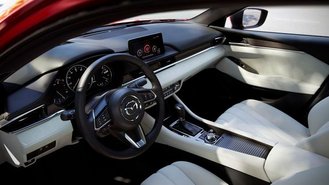 When Mazda started selling the 2018 Mazda6 in April, the Japanese automaker stated that it would add Apple CarPlay and Android Auto to the sedan. Fast forward to the end of July, and Mazda has finally followed through on its promise.
Mazda recently announced that the 2018 Mazda6 Touring trim and higher – so any Mazda6 besides the base Sport trim – would be available for a dealer-installed upgrade at no extra cost that would bring Apple CarPlay and Android Auto integration to the sedan in September. For consumers that purchase a Mazda6 starting in November, the sedan will come with both smartphone systems straight from the factory.
This isn't the only upgrade the Mazda6 will get, as owners that opt to get the no-cost dealer-installed upgrade will also benefit from a more-powerful, 2.1-amp USB port. Both upgrades will take approximately two hours for a dealer to install.
Other vehicles in the mid-size segment that already have both smartphone systems integrated into their infotainment systems include: the Honda Accord, Ford Fusion, Hyundai Sonata, Chevrolet Malibu, Kia Optima, Volkswagen Passat, Subaru Legacy, and Buick Regal. In other words, Mazda is late to the party.
Apple CarPlay and Android Auto integration is the becoming norm for the automotive industry, as they're usually simpler to use than an automaker's infotainment systems and are more familiar, as well. People interact with their smartphones more often than their vehicle's infotainment system, which is why the majority of consumers are more comfortable with the systems, as they mirror their smartphones' screen.
A recent study by the AAA Foundation for Traffic Safety and the University of Utah found that Apple CarPlay and Android Auto were found to be less distracting for drivers to use. The systems also operated more quickly than an automaker's infotainment system.
Mazda's decision to integrate the smartphone systems into the Mazda6 will bode well for the mid-size sedan and make it more attractive to consumers.