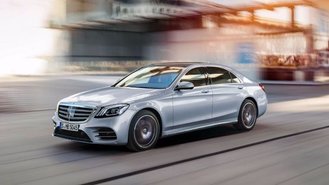 Mercedes-Benz has added a host of new driver assistance technologies to the 2018 S-Class as the company inches closer to autonomous driving.
The revised S-Class, shown last month, has been given an upgraded version of the Intelligent Drive suite of technologies, according to Motor Authority. This umbrella term incorporates various cameras and radars that support the driver assistance systems that can provide steering, braking, and other inputs.
One is a new version of Active Distance Assist Distronic, a type of adaptive cruise control that can now recognize oncoming roundabouts, toll booths, and even the exit you're supposed to take based on route navigation, and slow the S-Class correspondingly.
More active assists, including one for lane changes and another for speed limits, mean the S-Class can pay attention to oncoming traffic and road laws even when you aren't – even though you should always be paying attention. The new Evasive Steering Assist will even try to help you steer away from a pedestrian or other object you may hit.
But the most important driver assistance system is the Car-to-X system that can relay information about road hazards or traffic to other cars equipped with the system. It's the next step in creating cars that can talk to each other and possibly avoid crashes altogether.
The new S-Class should reach showrooms later this year.