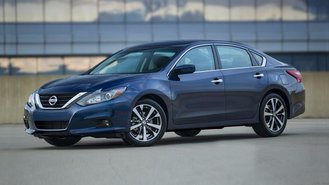 A lot of changes are in store for the 2018 Nissan Altima, but the largest alteration involves the V6 engine. Previously, the Altima was available in seven different trims, two of which could be fitted with a 3.5-liter V6 engine. For 2018, Nissan trimmed the number of available models down to just five for the Altima and made the V6 engine an exclusive for the range-topping SL model.
The 2018 Altima 3.5 SL is priced at $34,395, including destination. That's an increase of $5,520 over the 2017 Altima 3.5 SR that cost $28,875 and was previously the cheapest way to get a V6-powered Altima.
While that's a large jump in terms of pricing to get a V6 engine in the midsize sedan, the new Altima validates the price by offering a NissanConnect infotainment system with navigation, Apple CarPlay and Android Auto compatibility, adaptive cruise control, front and rear parking sensors, and automatic emergency braking.
With the decision to keep the 270-horsepower 3.5-liter V6 engine alive, the Altima carries on as one of the few V6 family sedans on the market, alongside the Toyota Camry, Ford Fusion Sport, Volkswagen Passat, and Subaru Legacy.
The Toyota Camry is available in two different trims – the XLE and XSE – both available with V6 engines. The cheapest trim, the Camry XLE V6, starts at $35,295, which costs slightly more than the V6-powered Altima and is more powerful, with 301 hp. Another notable option, the Ford Fusion Sport is equipped with a 325-hp 2.7-liter EcoBoost V6 engine and costs $34,625 (although it's worth noting this Fusion variant is far more focused on performance than the Altima or Camry).
The Passat, meanwhile, can be had with a 3.6-liter V6 engine that makes 280 hp and costs $30,115 for the SE trim. The Legacy has an available 3.6-liter six-cylinder boxer engine that produces 256 hp and starts at $32,805 for the 3.6R Limited trim.
All that said, the Altima 3.5 SL is in the middle of the pack in terms of performance and price for midsize sedans that are available a V6 engine. Opting for the V6 engine over the 179-hp 2.5-liter inline-four unit brings nearly 100 more horses, but results in a loss of approximately five miles per gallon in all driving situations.
The V6 is rated to get 22 mpg in the city, 32 mpg on the highway, and 26 mpg combined. The four-cylinder engine, on the other hand, can get 27 mpg in the city, 38 mpg on the highway, and a combined rating of 31 mpg. When compared to turbocharged four-cylinder offerings from competitors, the V6 engine may be up on power, but only slightly. And when it comes to fuel economy, the six-cylinder motor leaves a lot to be desired.