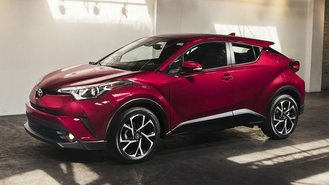 Customers look at crash test ratings when thinking about vehicular safety. They're a calculated way to see how a car stacks up to the competition. However, one area customers overlook is headlights. Many think you can turn them on and if they light up they work. That's not the case, and headlights are one reason why the 2018 Toyota C-HR didn't earn the Insurance Institute for Highway Safety's (IIHS) Top Safety Pick award.
According to the insurance-industry funded group, the C-HR subcompact crossover has headlights that provide poor visibility. According to the company, the C-HR's headlight provided "inadequate visibility on curves but also producing excessive glare from the low beams." High-beam visibility on straightways was also inadequate. The IIHS gave the 2018 Toyota C-HR a "Poor" rating for its headlights, the lowest possible score.
While the crossover's headlights were poor performers for the IIHS, the C-HR earned a "Good ratio across the rest of the company's crash test categories. The Toyota even earned a "Superior" rating in the "Crash Avoidance & Mitigation" Category.
The 2018 Toyota C-HR only offers halogen headlights in the US. The IIHS has yet to test the 2019 C-HR to see if the company improved the headlight design and quality.
The 2018 Mazda CX-3 is the only subcompact crossover to earn the Top Safety Pick award so far.