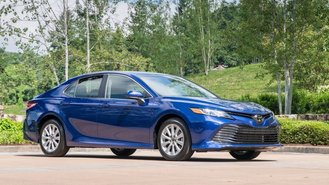 As buyers turn away from mainstream sedans when shopping for a family vehicle, the midsize sedan segment is getting more competitive than ever.
Nowhere is that more evident than the 2018 Toyota Camry. Long the best-selling car in the US, that title is under siege as more buyers shift to crossovers and even smaller sedans. To counter this, Toyota radically changed the styling to put aside common complaints the Camry was too conservative. And it's also added power to even the most popular four-cylinder gasoline model, now rated at 206 horsepower and up to 41 mpg on the highway – impressive considering there's still a hybrid variant that gets even better economy ratings.
But the Camry still has a fight on its hands, notably from the 2018 Honda Accord. The newest version from Toyota's arch rival will be unveiled July 14 and go on sale by the fall. It too is expected to have more eye-catching styling than before, and also armed with efficient, turbocharged engines, including the monster from the Civic Type R. By this time next year, a redesigned Nissan Altima should also be shown with Nissan's new styling themes that will soon proliferate through their entire lineup.
The Camry, Accord, and soon the Altima, will be tasked with reinvigorating the midsize sedan segment, which is about to fall behind compact sedan sales this year despite deep discounts on models from Ford, Hyundai, Volkswagen, and others. Buyers who may not need the space of a crossover, yet still seek out comfort in their new car purchases, would be wise to take a look at what midsize sedans offer these days.