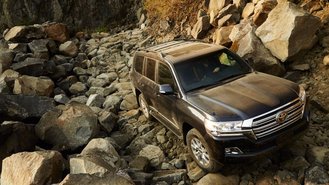 The Toyota Land Cruiser is the most expensive Toyota on sale at the moment. And despite its legendary off-roading prowess and reliability, spending upwards of $86,000 on an SUV from a mainstream brand is a tough pill to swallow for consumers. But for 2018, Toyota has lowered the Land Cruiser's price from $86,070 (including a $1,295 destination charge) to just $84,960.
That's a price difference of $1,110, which can be attributed to the lack of the rear-seat DVD entertainment system on the new SUV. A Toyota spokesperson confirmed that for the 2018 model year, the rear-seat DVD entertainment system, which includes two 11.6-inch display screens, RCA jacks, a HDMI input, a remote, and two wireless headphones, will be available as an optional extra for $2,200. The entertainment system was fitted to the 2017 Land Cruiser as standard.
The decision to take the system off the Land Cruiser's list of standard features may be Toyota's way of attempting to boost the Land Cruiser's sales figures, which have been suffering, despite being one of the most capable and reliable beasts on the market. In July, Toyota sold a total of 193 units of the Land Cruiser. In the same month last year, the automaker shifted 287 units of the SUV.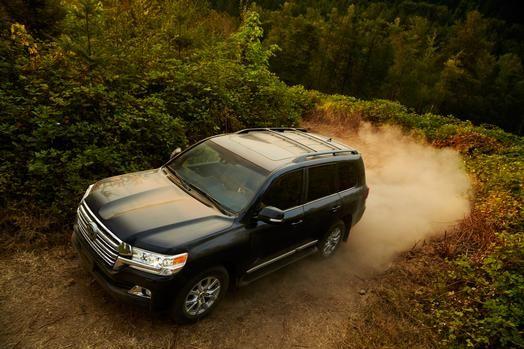 In addition to drawing more consumers in with a lower price tag, Toyota could also be trying to create a larger gap between the Land Cruiser and the Lexus LX 570. The 2017 LX 570 costs $91,075 (all Lexus prices include $1,195 in fees), which made the SUV $5,005 more than its Toyota-branded counterpart. For 2018, that gap has increased to $6,215, as the 2018 LX 570 is priced at $91,175 – an increase of $100 from the previous year.
But even at its new price point, the 2018 Land Cruiser still encompasses an awkward part of the segment – it's cheaper than a Land Rover Range Rover (its closest rival in terms of outright capability and size), more expensive than a Porsche Cayenne S, Mercedes-Benz GLS 450, and Cadillac Escalade, and less premium than all of them.