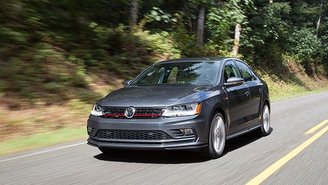 While manual transmissions become increasingly rare in mainstream cars, they're still reliably available in performance cars, especially in the $20,000 to $40,000 range, where enthusiasts are spoiled for choice. But that selection of affordable, three-pedal performance has just gotten a little smaller today, after Volkswagen confirmed the 2018 Jetta GLI would only be available with a dual-clutch automatic transmission.
A six-speed manual has reliably been available in the high-performance GLI since its inception. In the most recent version of the hot sedan, it served alongside a six-speed, dual-clutch automatic. But no more. And frankly, while the death of a manual transmission is never something to celebrate, it's not hard to see why Volkswagen made its decision.
Speaking to CarsDirect, Volkswagen spokesman Mark Gillies confirmed the information and said the take rate on the GLI's manual transmission was a mere 30 percent – around 50 percent of the GLI's five-door cousin, the more popular Golf-based GTI, ride with a manual gearbox. It's that popularity, it seems, that's keeping a manual transmission in the GTI.
Despite the deletion of the manual transmission, the GLI's 2.0-liter, turbocharged four-cylinder is unchanged and continues to pump out 210 horsepower and 207 pound-feet of torque. Removing the six-speed stick does drive the GLI's price up, too – 2018 models will start at $30,395 (including an $850 destination charge), which represents a $1,680 premium over the 2017 model. Considering year-to-year pricing changes and the $1,100 cost of an automatic on the 2017 GLI, that increase isn't unreasonable.
But the GLI still kind of is – the GTI has a lower starting price ($26,415 for a 2017 model), a more attractive exterior, a more versatile body, and a wider range of available features. So while the sun is setting on the GLI's manual, rest easy knowing the GTI offers three-pedal thrills in a better overall package.