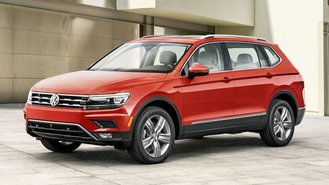 Owners of certain 2018 Volkswagen Tiguan models with a panoramic moonroof will receive notification of a recall affecting about 45,000 examples of the SUV. According to the National Highway Traffic Safety Administration, an ambient LED light unit could catch fire.
Volkswagen will first apply a remedy before replacing the faulty design with a new one. VW dealers will disconnect the LED ambient light unit in question, apply a piece of aluminum tape to seal it, and replace it later once a new design is ready. The LED is located in the headliner. Once the new design is ready, VW will again contact owners.
The affected Tiguans were built between December 8, 2016, and July 7, 2018. Vehicles built after this date aren't affected. These newer models use a LED ambient light design that's different than the one in the affected vehicle. High humidity in the vehicle or accidentally leaving the moonroof open when raining can cause the the light unit to catch fire. Owners may experience a burning odor or see smoke coming from the front of the moonroof frame.
VW became aware of the problem in April 2017 with a fire being reported the following month in California. The recall doesn't affect 2018 Tiguan Limited models. They use an older LED ambient light design.