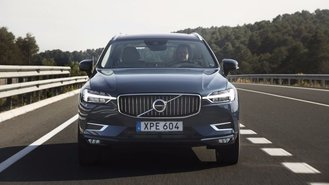 The 2018 Volvo XC60 is set to post competitive efficiency numbers against other luxury SUVs.
That's based on newly released fuel economy ratings from the United States Environmental Protection Agency, with the 2018 XC60 rated at 22 mpg city, 28 highway, and 24 combined for the base T5 AWD. With the more powerful T6 engine, all three of those numbers fall by 1 mpg.
Oddly, the T5 model posts slightly worse highway fuel efficiency than the outgoing XC60, although it scores 1 mpg better in the combined estimate. But apart from the Jaguar F-Pace and its 2.0-liter diesel engine, the XC60 competes well with other luxury SUVs in terms of fuel efficiency, such as the Mercedes-Benz GLC300, BMW X3, Audi Q5, and the equally new Alfa Romeo Stelvio. A T8 plug-in hybrid version of the XC60 is also expected after the standard models go on sale, but fuel economy estimates for the hybrid haven't been released yet.
The 2018 XC60 is the first significant revision for the model since it was released in 2009. It uses many of the same pieces introduced on the 2016 XC90 SUV, as well as the 2017 S90 and V90 models. The XC60 reaches US dealerships this fall.