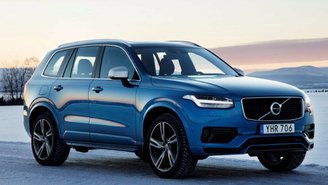 The 2018 Volvo XC90 is a standout choice for consumers looking to get into a luxurious midsize SUV. While the SUV's looks are one of its strong suits, the XC90 has a lot of other things going for it, too. One of the downsides, though, is that consumers looking to get a third row of seats have to move up from the T5 trim to a SUV with T6 badging. According to a new order guide, and the automaker's online configurator, Volvo has resolved that issue with a mid-year change (and at no additional cost to consumers).
XC90 T5 trims now come with seating for seven thanks to a third row as part of the SUV's list of standard features. We reached out to Volvo to see why the automaker added the extra seats onto the base trims, but didn't get an exact answer. While it would make sense for Volvo to follow other automakers as they make midsize SUVs capable of seating up to seven passengers right out of the gate, the feature isn't ubiquitous among its competitors. A third row is standard on the Audi Q7 and the Mercedes-Benz GLS 450, but is an optional extra on the BMW X5.
One would assume that adding a third row into the back of a SUV would cut into the vehicle's cargo capacity, but the Volvo spokesperson we emailed told us that cargo capacity wouldn't be affected, as the third row will disappear completely into the floor. The breakdown of cargo space, then, should mimic the T6 trims, which has a max cargo volume of 85.7 cubic feet, 41.8 cubic feet behind the second row, and 15.8 cubic feet with the third row in place.
The addition of a third row as standard does make the XC90 T5 trims more attractive to consumers that need to regularly ferry seven passengers, especially when cross-shopping the SUV against competitors that only have the feature as an optional extra. The Volvo spokesperson told us that the updated T5 models with standard third-row seating should be available at dealers now.