GMC Yukon shoppers will soon get a new choice to consider with the addition of the SLT Standard Edition. Due to arrive as a mid-year addition for 2018, it will help bridge the $8,100 gap in price between the current SLE and SLT.
However, order guides reveal the vehicle leaves out a number of features in order to achieve a sub-$55k price. In the process, the brand appears to have created a more compelling upgrade for those in the market to buy a Chevy Tahoe.
Here's what you need to know.
A More Affordable SLT
The 2018 Yukon SLT Standard Edition has a base MSRP of $54,400, or $55,695 factoring-in a mandatory $1,295 destination charge. The extended wheelbase XL version starts at $58,395. All-wheel drive adds $3,000 to either.
Although the $50,395 SLE is still the most affordable Yukon, the Standard Edition offers a $2,800 advantage in price compared to the regular SLT, which has been available at dealerships since last September.
Under the hood, the Standard Edition features the same 355 hp 5.3-liter V8 that you'll find in the SLE and SLT, which comes paired with a 6-speed automatic transmission.
However, as one might expect, a lower price tag has a cost when it comes to features.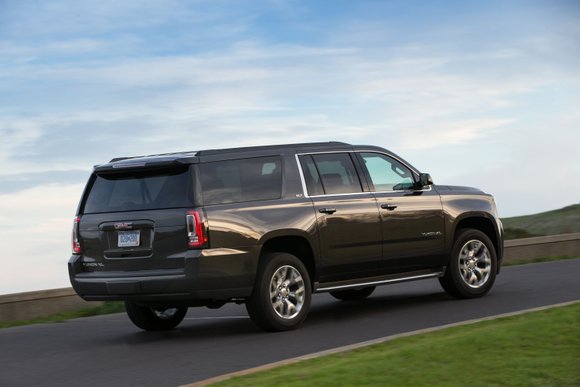 Noteworthy differences with the regular SLT include:
No proximity key or push-button start
No heated/power tilting/telescoping steering wheel
No power-folding side mirrors with turn indicators
No ventilation feature in front seats, only feature 2-way lumbar support (vs. 4-way)
No rear heated seats
No hands-free power liftgate
No blind spot monitor w/cross-traffic alert
No option to add adaptive cruise control
Worth It?
If you've been looking for a more affordable Yukon without having to downgrade to an SLE, the SLT Standard could be appealing. However, the apparent lack of important features like a blind spot monitor could be a deal-breaker for some.
We consider it unlikely that the vehicle will manage to woo many buyers considering a less-expensive crossover model. That said, it could equate to a more affordable upgrade for those cross-shopping the Chevy Tahoe.
The SLT Standard Edition slots just $1,800 higher than a $53,895 Tahoe LT, making it a more reasonable step-up compared to the rather substantial $4,600 premium of the regular Yukon SLT.
Note: 2017 Yukon XL pictured