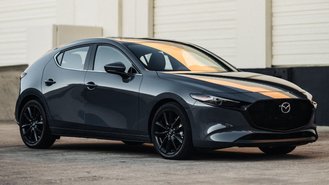 The all-new Mazda3 has already been subjected to a few recalls and now there's a new one out for 2019 and 2020 models. The latest recall affects 35,390 Mazda3s and involves the vehicle's automatic emergency braking (AEB) systems inadvertently activating.
According to Mazda, the Mazda3's Smart Braking Systems (SBS), which is what Mazda calls AEB, could falsely detect an obstacle in front of the vehicle when there's nothing in front of it. This is obviously dangerous because the car will slam on its brakes to try to avoid an obstacle that's not there. If this were to happen, it could drastically increase the risk of a rear-end collision, as a car could suddenly come to a halt in the middle of the road.
Mazda says there are a few things to look out for when the defect occurs. An audible warning alarm sound will be emitted and a warning message will be displayed in both the multi-information center and the head-up display.
Mazda notified the National Highway Traffic Safety Administration (NHTSA) about the defect and claims that no injuries have been reported in regard to the issue.
In its press release, Mazda didn't confirm a fix for the issue. It didn't even state when owners will begin to be notified about the issue. Autoblog, though, reports that the automaker has two possible fixes for the vehicle, depending on build dates. Models from early build dates will reportedly need either an entirely new instrument cluster or will need to have the instrument cluster reprogrammed. Cars built at a later date will receive a reprogrammed SBS through an update. The outlet reports that early models have a different procedure for "temporary manual deactivation of the Smart Braking System," which is why they require a different fix.
Once Mazda finds a fix, it will notify owners of what steps they should take. Until that time, Mazda3 owners can call the manufacturer at 800-220-5500 or contact the NHTSA hotline at 888-327-4236. Visiting the NHTSA's website with your vehicle's VIN is a good way to stay on top of the recall.
A lot of Mazda's vehicles come with SBS. The system is found on the CX-30, CX-5, CX-3, CX-9, and Mazda6, though some have a pre-collision feature while others don't. We're interested to see if a few of Mazda's other cars that have the same safety feature will have a similar recall in the near future.