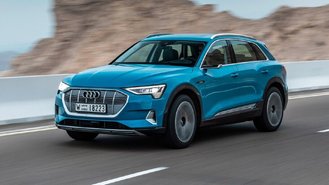 Audi had some trouble getting its first all-electric e-tron SUV to market, but the upscale SUV has usable range, peppy performance, and bona fide luxury features. Now, the e-tron has earned the Insurance Institute for Highway Safety's (IIHS) highest safety rating, adding another notch on its belt.

The 2019 Audi e-tron, as the IIHS claims, is the first fully electric car from the institute to earn its coveted Top Safety Pick Plus award. While Audi offers the e-tron in two trims – Premium Plus and Prestige – consumers don't have to opt for the range-topping Prestige trim or tack on any optional packages to get into a top-rated e-tron. The electric SUV is a Top Safety Pick Plus vehicle right out of the gate.

To earn the IIHS' highest safety rating, the e-tron had to earn a rating of "Good" in all six of the organization's crash tests, have a front crash prevention system that earns a rating of at least "Acceptable," and have "Good" rated headlights. The e-tron met all of these requirements and went a little beyond with a standard front crash prevention system that was found to be "Superior." Having headlights that earn a rating of "Good" has proven to be difficult for automakers, but Audi didn't have an issue. The e-tron's sole LED headlights provided good visibility in all four of the IIHS' tests.


The IIHS hasn't tested too many electric vehicles, as the other more recent EVs include the Nissan Leaf and the BMW i3. Both missed out on earning a Top Safety Pick award from the organization. A 2018 Tesla Model 3 was tested, but the IIHS doesn't have any published crash test scores for the EV. It didn't name the Model 3 a Top Safety Pick vehicle, though. The last Model S the IIHS tested was a 2017 model that missed out on a Top Safety Pick award because of "Poor" rated headlights and an "Acceptable" rating in the small overlap front driver-side test.

The e-tron joins the A6 as the only other Top Safety Pick Plus vehicle in Audi's lineup. The A3, A4, and Q8 are all Top Safety Pick vehicles.