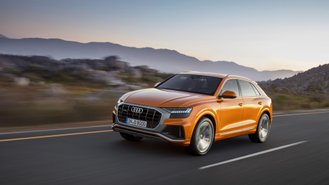 The 2019 Audi Q8 is the latest addition to the German automaker's family of crossovers and SUVs, giving it a direct competitor to the likes of the BMW X6 and Mercedes-Benz GLE Coupe. The styling takes several cues from the Audi A8, which ushered in a new design language for the company.
The Q8's styling is unique with its single-frame, massive grille, six vertical chrome strips, and flanking LED headlights. A distinctive feature is the large C-pillar that helps give the mid-size crossover its coupe-like appearance. Also included are LED taillights and integrated rear spoiler.
Inside, the Q8 again takes cues from the A8 sedan with the two offering a very similar interior layout. There are two touchscreens on the center console – one for the infotainment system and the other for climate controls – and a massive screen for the instrument cluster.
So far, Audi has announced just two powertrains – a pair of turbocharged 3.0-liter V6 engines with an eight-speed automatic transmission. One is diesel while the other is gasoline, though the diesel is unlikely to come to the US. All Q8s have mild hybrid technology as standard. For the Q8, the system is a belt-driven motor-generator that can aid the engine during high loads. It can also recover up to 12 kilowatts of energy under braking to store in a small lithium-ion battery.
The Q8 comes with Audi's Quattro all-wheel-drive system that splits power through a mechanical center differential 40:60 front to rear. However, it can transfer the majority of power to the axle with better traction. A sprint to 62 miles per hour takes 6.3 seconds, according to the automaker.
The 2019 Audi Q8 goes on sale in Germany and other European countries in the fall, while the US arrival isn't expected until late this year or early 2019.