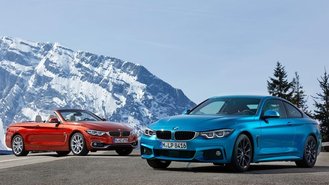 A BMW spokesperson has confirmed that the 2019 4-Series will see a price increase of $1,300 across the board. The 2019 430i starts at $45,795 (including $995 in destination) for the coupe, $45,595 for the sleek, four-door Gran Coupe, and $53,945 for the hardtop convertible. Grabbing the six-cylinder 440i will now require $52,195 for the two-door hardtop, $51,995 for the faster Gran Coupe, and $60,995 for the convertible. But while prices are higher, the 2019 4-Series is a far better value.
The updated 4-Series will now come with navigation, advanced real-time traffic, park distance control, an upgraded instrument cluster with extended contents, and Apple CarPlay support with a 1-year trial. According to a BMW spokesman, adding all of the now-standard equipment individually would cost $2,750, although we're talking about a lot of equipment that was available on last year's Premium Package, which cost $2,300. That makes the 2019 4-Series a much better value.
A lot of the features are self explanatory, but things like remote services and an instrument cluster with extended contents may require an explanation. The BMW connected app and the car's remote services features allow owners to locate their car, turn the air conditioning on, send destinations from a smartphone to the car's navigation system, lock and unlock the vehicle, and more. The service also allows owners to use BMW's assist response center to help unlock their vehicle and, in the case that the car is stolen, help the police locate and retrieve the vehicle.

The instrument cluster with extended contents is the other feature that may throw people for a loop. The feature brings a high-resolution display that shows vehicle functions, including warning lamps and indicators, navigation directions, and other pieces of information.
BMW adding value to the 4-Series may be driven by the model's position in the niche market of compact luxury coupes. It's the oldest member of this group, facing off against the far newer Audi A5 and Mercedes-Benz C-Class Coupe. A small hike in price for a lot more standard equipment following a facelift could be just the thing to keep what few consumers this class attracts strolling through BMW showrooms.