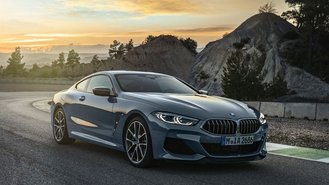 It's been two decades since BMW has had a model in its lineup with an 8-Series badge, but, after nearly a year of rumors, the German automaker has finally brought the grand tourer back. The first-generation BMW 8-Series was produced from 1989 to 1999 and was a striking, technology-forward vehicle. It looks like BMW is hoping to retain everything the original model stood for with a modern take on the large coupe.
Let's start with the obvious, the new 2019 BMW 8-Series is absolutely gorgeous. The lengthy two-door coupe shares a lot of the same design cues as the 8-Series concept BMW debuted last year at Pebble Beach. While the grand tourer is a looker, the vehicle's body utilizes aluminum for the roof, hood, front subframe assembly, doors, and firewall to keep weight down. Those looking to further reduce the vehicle's weight can also option a carbon fiber roof.
The M850i xDrive is the only trim that BMW is offering for the 8-Series model at the time of launch. The vehicle is powered by a 4.4-liter twin-turbo V8 that's good for 523 horsepower and 553 pound-feet of torque. It may look like a behemoth, but the coupe can get to 60 mph in just 3.6 seconds. Top speed is electronically limited to 155 mph.
As the trim's lengthy name implies, the M850i xDrive has all-wheel drive, while the engine is mated to an eight-speed automatic transmission. It's not a full-time all-wheel-drive system, though, as BMW claims that drive predominantly goes to the rear. Rear-wheel steering also helps the lengthy vehicle to be easier to drive around town and through tight corners.
Technology is a major draw for the new 8-Series, as the vehicle is fitted with some really high-tech gizmos. The gearbox works in tandem with the navigation system to adjust shifts, stopping the unit from making unnecessary gear shifts and downshifting early, like at an intersection. Another noteworthy piece of tech is the addition of BMW's LED laser headlights as standard.
While those are nifty, the M850i xDrive's Digital Key comes with Near Field Communication (NFC), which is really exciting. Owners can lock, unlock, and start the vehicle via a smartphone and don't need a conventional key. Other tech features include a 10.25 center display, parallel-parking assist, the seventh generation of iDrive, and a 360-degree camera.
BMW didn't announce pricing, but did state that the 2019 M850i xDrive goes on sale later this fall. It'll compete against the likes of the Lexus LC 500 and Mercedes-Benz S-Class Coupe as a luxurious grand tourer.