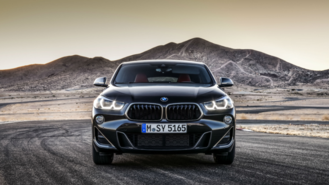 BMW all but started the niche segment of tall, yet compact vehicles that put styling first. While the 2019 BMW X2, which is a more stylish variant of the X1, it doesn't really have the oomph to back up its looks in the sDrive28i and xDrive28i trims. The sportier X2 M35i trim fixes that issue, but it'll cost you.

BMW's configurator for the 2019 X2 now has pricing for the M35i trim and the vehicle starts at $47,445, including the $995 destination fee. That makes the M35i $8,050 more than the xDrive28i, which also comes with all-wheel drive. While that sounds like a large gap, the M35i does come with a lot of sporty features over lower trims.

Power for the M35i comes from a turbocharged 2.0-liter inline-four that produces 302 horsepower and 332 pound-feet of torque. Lower models have the same engine, but the motor produces 228 hp. The same eight-speed automatic transmission remains, but the M35i comes with a launch-control feature, which allows it to get to 60 mph in 4.9 seconds. The xDrive28i makes the sprint in roughly 6.3 seconds.

Other sporty features on the M35i that make it more of a performance vehicle over other trims include M Sport brakes, firmer suspension tuning, an M Sport exhaust, 19-inch wheels, a limited-slip differential, 12-way power front sport seats, and a quicker ratio for the power steering system.


The X2 M35i doesn't have a lot of competitors. Jaguar has the E-Pace R-Dynamic S, there's the Mercedes-AMG GLA 45, and Lexus offers the UX 200 F Sport. The GLA 45 is the king of the oddballs, as it features a 375-hp turbocharged 2.0-liter inline-four. It's also much more expensive, with a starting price of $54,345.

The Jaguar E-Pace R-Dynamic S P300 AWD has a 296-hp turbocharged 2.0-liter four-cylinder engine and costs $47,395. The UX 200 F Sport is more of an appearance package over the regular UX 200. The trim features a 169-hp 2.0-liter inline-four and is front-wheel drive only, except for the hybrid trim. Pricing for that model starts at $35,025.

Expensive? Yes. But it's unlikely that BMW will give the X2 the full M treatment, which makes the M35i the sportiest vehicle available in the lineup. With the extra performance parts and power over the standard X2 trims, the M35i is definitely worth the money for those that want performance and good looks. Production of the model starts in November.