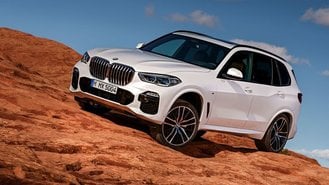 The latest generation of the BMW X5, debuting as a 2019 model, rides on an all-new platform – the CLAR modular platform. BMW first introduced CLAR in 2016 with the 7-Series. The new platform also means the X4 grows in size, measuring 194.3 inches long (up 1.1 inches), 78.9 inches wide (up 2.6 inches), and 69 inches high (up 1.0 inches). The increase in size means more room inside.
Under the hood will either be a 3.0-liter turbocharged inline-six with 335 horsepower and 330 pound-feet of torque, or a 4.4-liter turbocharged V8 with 456 hp and 479 lb-ft of torque. While the new platform will shave weight, the V8 X5 will still tip the scales at 5,170 pounds. An eight-speed automatic and all-wheel drive (rear biases) are both standard features. A plug-in hybrid is expected in the future.
The more distinctive design of the X5 is accented by the single-piece grille surrounds. Wheels are large, ranging from 19 to 22 inches in diameter. LED headlights are standard with laser headlights on the options list.
Inside, there's a fully-digital instrument cluster and center display. There's a new gear shift lever, numerous tactile buttons, and rotary dial controller. The 2019 BMW X5 also sports a host of safety features as standard equipment such as blind-spot monitoring, lane departure warning, front and rear collision warning, pedestrian and cyclist detection, rear cross-traffic alert and speed limit information.
Pricing information will be announced closer to the X5's launch, which is in November.