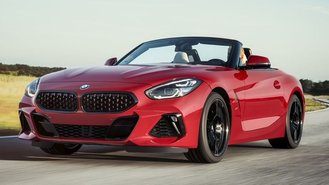 After three years of waiting and examining countless spy shots, BMW finally unveiled the 2019 Z4 at Pebble Beach Concours d'Elegance. BMW revealed a concept of the Z4 at last year's Pebble Beach event, so it's only fitting that the German automaker returned to Monterey to take the wraps off of the production 2019 BMW Z4 M40i First Edition.

With its sharper look, electric soft-top roof, and 3.0-liter inline-six, the new Z4 promises to be a thoroughbred sports car instead of a good-looking cruiser. There's also the fact that the platform and powertrains were developed jointly with the Toyota Supra. The new convertible shares a lot of the same design cues and lines as the BMW 8-Series coupe that was unveiled earlier this year, making it one of the more striking roadsters on the market.

In traditional fashion, the First Edition model features some unique touches, which include a Frozen Orange Metallic paint scheme, 19-inch alloy wheels, a soft top with silver accents, and black exterior mirrors. The cabin also has some special features for being a First Edition model, including a Harman Kardon Surround Sound System, adaptive LED headlights, a head-up display, as well as BMW's Live Cockpit Professional system with two high-resolution displays.
To ensure that the new Z4 has performance to match the stunning bodywork, the convertible is fitted with a 3.0-liter inline-six that produces "enough horsepower and torque," as BMW's press release claims, to get the vehicle to 60 mph in under 4.4 seconds.
BMW hasn't confirmed official figures for the Z4 yet. But the vehicle will come with M Sport brakes, M tuned suspension with electronically controlled dampers, and a M Sport rear differential. Car and Driver reports that the M40i variant will be good for 380 hp and 370 lb-ft of torque. The car's 50:50 weight distribution also promises to make it enjoyable to drive.
BMW didn't provide any information on what kind of transmission the Z4 M40i First Edition will be sold with, but Car and Driver states that the convertible will only be sold with an automatic transmission. The gearbox, as in many of BMW's other vehicles, will be sourced from ZF and will be an eight-speed automatic. Power is routed to the vehicle's rear wheels.

The Z4 continues a long lineage of roadsters wearing the "Z" badge from BMW that started with the Z1 from 1989. After the Z1, BMW introduced the Z3, Z8, and Z4. The previous Z4 was revealed in 2002 and was sold until 2016.

Depending on pricing, which hasn't been announced yet, the new Z4 will compete against the Porsche 718 Boxster, Jaguar F-Type, Audi TT, Mercedes-Benz SL and BMW 2-Series. The Z4 will also go head-to-head against its development buddy, the Supra, which has yet to be unveiled.