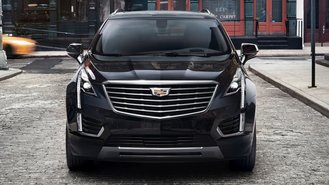 The Cadillac XT5 will be getting some sizable price increases for 2019. In fact, order guides show the vehicle will be anywhere from $1,100 to $2,500 more expensive compared to the previous year.
Based on our analysis, the largest price hikes can be attributed to an increase in safety features. However, a closer look reveals the changes could be meant to help differentiate the model from the upcoming XT4.
Here's what you need to know.
Higher Prices
Dealer order guides show the starting price of the 2019 XT5 will be $42,690 including destination, $1,100 more than the previous year's MSRP of $41,590. That's a 2.6% price increase, quite a bit higher than what we're used to seeing.
Luxury trims are priced from $49,490, an increase of $1,900. Stepping up to the Premium Luxury model will set you back $55,190, $1,100 more than before. The top of the range will see the largest increase.
The XT5 Platinum is listed at $66,890, $2,500 more than last year's MSRP of $64,390 and a 3.9% price increase. To put that in perspective, that's over $3,200 more expensive than a fully-optioned BMW X3 M40i ($63,595).
We found the largest increases to be due to a change in standard equipment.
For example, the Luxury trim will now come standard with the Driver Awareness Package. Previously, this was a $770 option. That means low-speed auto emergency braking, lane-keeping assistance and more are now standard.
Similarly, the Platinum will now come with the Driver Assist Package (previously $1,595 extra). That gets you advanced features like front & reverse auto emergency braking, adaptive cruise control, auto parking assist and more.
Our Analysis
Price hikes aren't unusual, but some buyers may not be happy about having to pay up to $2,500 for features they may not want. Having said that, one could argue that a vehicle over $63,000 should come loaded with the best features.
Interestingly, other GM brands are going in the opposite direction, cutting prices as much as $2,300. However, we suspect the changes may have more to do with the arrival of the all-new XT4 this fall.
With an MSRP ranging from $35,790 to $42,790 (excluding options), the new XT4 tops out $1,200 higher than the least-expensive 2018 XT5. After the changes, the difference will be a mere $100.
Shoppers should be aware that deals on the 2018 XT5 are incredibly good this month. In addition to $2,000 cash, Cadillac is offering a $4,000 bonus on specially-tagged vehicles.
Altogether, that's $6,000 in savings. Even better, Cadillac is letting buyers stack the cash with 1.9% APR for 60 months, making this one of the best deals we've seen to date.
Learn more about the Cadillac XT5 »
Editor's Note: 2018 XT5 pictured