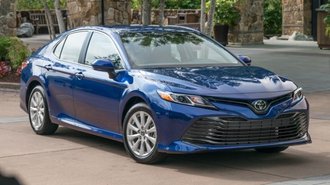 Toyota Camry shoppers craving the latest & greatest will be in for higher prices when the 2019 model arrives. That's because sticker prices are increasing as much as $325. But it may turn out to be a better value.
On better-equipped styles, changes in equipment will enable you to get more features for less than before. As a result, those willing to wait may be able to get a bit more for their money.
Here's what you need to know.
Higher Prices
According to Toyota's latest pricing sheets, the 2019 Camry L will start at $24,765 including destination, a $200 increase compared to last year's MSRP of $24,565. The LE & SE are up by the same amount to $25,270 and $26,470.
Next up, prices for the XLE & XSE are rising $325, a 1.1% increase, to $29,845 and $30,395, respectively. MSRPs for the V6 versions are actually falling by $500 to $34,970 for the XLE and $35,520 for the XSE.
Prices for the Camry Hybrid are rising in a similar manner, up $200 in the case of the LE & SE, and $325 in the XLE. As a result, the model will now range from $29,070 to $33,645.
These are all fairly normal increases. But we've learned about some incremental changes in equipment that could make the 2019 Camry a better value compared to the previous year.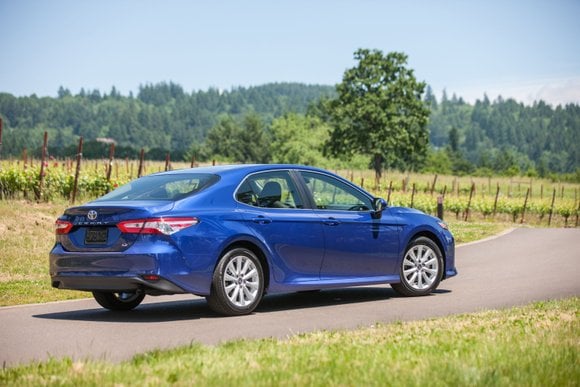 A Better Value?
As we reported recently, order guides show all Camrys will support Apple CarPlay and Amazon Alexa. The $200 increase on an L or LE could be well worth the money if you're an Apple or Alexa user. Sadly, Android Auto still isn't supported.
If you're interested in an XLE or XSE, you may appreciate that Toyota is making its Entune 3.0 Audio Plus head unit standard, as well as Qi wireless charging. Previously, both required the $1,800 Audio Package.
The main advantages of Entune Audio Plus over older systems are satellite & HD radio and Toyota's connected car service for emergencies. The brand is also allowing you to make an upgrade it probably should've offered from the start.
For 2019, the 4-cylinder XLE & XSE will offer the ability to add a $1,760 Navigation Package that includes Entune 3.0 Premium with JBL audio. Previously, you could only get built-in nav (dubbed Dynamic Navigation) with the V6.
But there's a bit of a catch.
4-cylinder and V6 versions of both styles will no longer come standard with Intelligent Clearance Sonar with Rear Cross-Traffic Braking. Now, you'll have to add a Driver Assist Package ($2,175 with the 4-cylinder and $1,550 with the V6).
The feature's main appeal is its ability to apply the brakes if the car senses you're close to hitting something in situations like a cramped parking space or while in reverse. You'll still be able to get it, but now it'll cost extra.
As before, all Camrys will continue to come with Toyota Safety Sense P, which gets you auto emergency braking, lane departure warning, adaptive cruise and auto high beams. This makes even the entry-level styles an outstanding value.
If you're looking for a deal and aren't moved by any of the changes above, consider a 2018 Camry. After over a year on the market, Toyota has finally introduced rebates for the first time in most parts of the country.
Editor's Note: 2018 Camry pictured