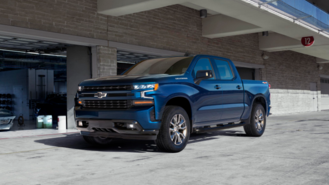 Full-size pickups usually come with a burly V8 engine to aid in heavy-duty tasks, like towing. More automakers have been moving to turbocharged V6 motors as an alternative, but V8s still reign supreme in the world of trucks. In an interesting move, Chevrolet has decided to sell the new 2019 Silverado with a turbocharged 2.7-liter four-cylinder engine, and despite being one of the smaller engines offered on a large truck, fuel economy figures aren't spectacular.
According to the EPA, the turbocharged four-cylinder can get up to 20 miles per gallon city, 23 mpg highway, and 20 combined. These figures are for the rear-wheel-drive layout and include the standard eight-speed automatic transmission. Performance for the engine is rated at 310 horsepower and 348 pound-feet of torque.
Ford sells the F-150 with a 2.7-liter EcoBoost V6 which is larger, more efficient, and more powerful (their motor produces 325 hp and 400 lb-ft of torque) than the Silverado's new four-pot. Ford's engine is rated by the EPA to get up to 20/25/22 mpg (city/highway/combined). There's a big different in towing, too. Chevrolet's 2.7-liter engine can tow up to 7,200 pounds when properly equipped, while the least amount of weight Ford's option with an engine with the same displacement can tow is 7,500 pounds.
Chevrolet, though, specifically calls out Ford's 3.3-liter V6 that's rated to get up to 20/25/22 mpg in its press release. While that engine gets better fuel economy, it's down on power with ratings of 290 hp and 265 lb-ft of torque. The 2019 Ram 1500, which Chevrolet also addresses, brings electrification to the world of pickups and its standard 3.6-liter V6 eTorque produces 305 hp and 269 lb-ft of torque. That offering can get up to 20/25/22 mpg, according to the EPA.
There is some good news, though, as the Silverado with the turbocharged 2.7-liter four-cylinder has a maximum payload capacity of 2,280 pounds, which is roughly 600 pounds more than similarly equipped competitors.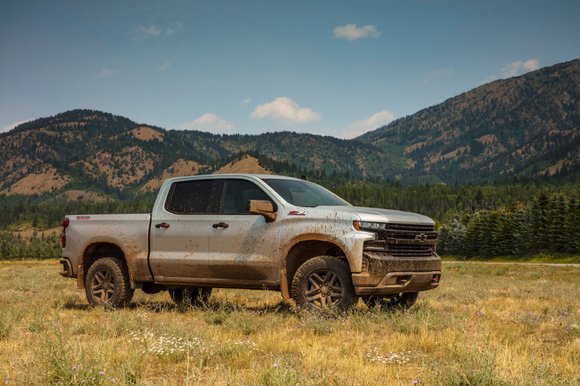 The new four-cylinder engine replaces last year's standard 4.3-liter V6 engine and, in that regard, Chevrolet claims the four-cylinder has 14 percent more torque and 13 percent better fuel economy. The powertrain is high-tech, too, with things like stop-start technology and cylinder deactivation. Weight's down, as well.
Deliveries for the 2019 Chevy Silverado with the four-cylinder engine are set to commence before the end of the year, with Automotive News reporting that prices start at $38,395 for the LT trim.