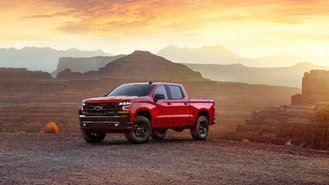 The Chevrolet Silverado is one of General Motors best sellers, but it consistently trails the Ford F-150 as the second best-selling truck in the United States. So when the time came for Chevrolet to unveil the all-new 2019 Silverado, you know it was going to be big. During this weekend's Chevy Truck Centennial celebration in Fort Worth, Texas, Chevy helicoptered – yes, helicoptered – the redesigned pickup truck in, giving members of its Chevy Truck Legends program a sneak peak before its official debut at the Detroit Auto Show in January.

Chevrolet, understandably, is keeping a lot of the new Silverado's specs to itself. What we do know, though, besides the radically designed exterior, is that the Silverado on display at the event was a LT Trailboss model. The LT Trailboss trim is new for the 2019 model year and is one of eight available models for the Silverado. It adds off-roading goodies from the Z71 package and a two-inch lift kit, which makes us think it offers more capability than an F-150 with the FX4 package but not quite as much as a full-blown Raptor. The model is also wearing chunky tires, which we assume is a special touch for the trim. We expect other exterior tweaks, including large skid plates and dark exterior accents to be part of the bespoke touches for the trim, as well.

The broader Silverado line will also adopt more lightweight materials. Chevrolet claims the roll-formed, high-strength-steel bed in the Silverado utilizes a higher-grade alloy construction. The rest of the truck's body will use mixed materials, resulting in a lighter body that offers more performance, but we don't know what kind of materials Chevy will go with. On the performance front, we also expect the Silverado to benefit from the new 10-speed automatic transmission that's found in the automaker's larger SUVs (and which also stars in the F-150 – the gearbox was a joint-development project between Ford and GM).

Design wise, the 2019 Silverado is drastically different than the current iteration of the pickup truck. The sloping roofline of the cab looks similar to the same design found on the smaller Colorado. Overall, the new pickup looks sleeker and more aggressive than the current model.
We expect Chevrolet to release some more information behind the Silverado before the truck's official debut at Detroit in January.