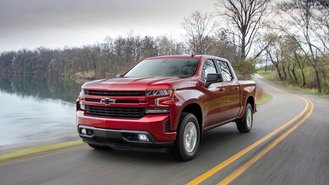 Tired of playing second fiddle to the Ford F-150, Chevrolet rolled out with the all-new 2019 Silverado 1500 at this year's Detroit Auto Show. When the pickup came out, Chevrolet was keeping a lot of the Silverado 1500's powertrain specs to itself. It's been a few months, and Chevy is finally ready to reveal some more details behind the truck's engine options, including two new turbocharged motors.
To start, there's a new turbocharged 2.7-liter inline-four. The motor makes 310 horsepower and 348 pound-feet of torque and is paired to an eight-speed automatic transmission. Ford also offers a 2.7-liter engine in the F-150, but that motor has two more cylinders. Seeing a four-cylinder option in a full-size pickup may surprise some, but Chevrolet claims the engine produces 22 percent more torque than the base 4.3-liter V6. It also weighs 380 pounds less than the V6.
The 2.7-liter turbocharged inline-four will be joined by a new Duramax 3.0-liter diesel turbocharged inline-six. The diesel engine will be paired to a 10-speed automatic gearbox. Power figures haven't been announced yet, as the engine won't be available until early 2019.
The new turbocharged engines join the old 4.3-liter V6 engine that's carried over from the current model. The V6 still makes 285 hp and 305 lb-ft of torque. Chevrolet has updated its proven 5.3-liter and 6.2-liter V8 engines, which are both offered on the new variant. Both come with GM's new Dynamic Fuel Management system and have 17 different cylinder deactivation modes. The 5.3-liter V8 produces 355 hp and 383 lb-ft of torque, while the 6.2-liter V8 is rated at 420 hp and 460 lb-ft of torque.
In total, there are six different powertrain layouts for the new Silverado 1500. Since it can get a little confusing, here's a quick breakdown of all the combinations. The 4.3-liter V6 with the six-speed automatic is standard. The new 2.7-liter turbocharged four-pot is the next step up and comes with an eight-speed transmission. The 5.3-liter V8 with the six-speed automatic sits above that and can also be fitted with an eight-speed gearbox. The new 3.0-liter inline-six turbodiesel engine with a 10-speed automatic is the next powertrain in line, while the 6.2-liter V8 reprises its role as the range-topping engine and comes with an automatic transmission with 10 gears.
With the new powertrains, the 2019 Chevrolet Silverado 1500 has a better chance of taking the sales crown away from the F-150 – especially when you consider its lighter and larger body, as well as its high-tech features.