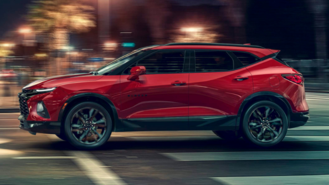 Chevy's announcement last month that the 2019 Blazer would start at $29,995 suggested it would undercut vehicles like the Nissan Murano and Ford Edge. However, our analysis finds that won't actually be the case on versions shoppers will be likely to buy, as well as when it comes to enhanced safety features.
As we suspected in our analysis last month, the Blazer's $30k base price is likely intended mainly for advertising purposes. Order guides show other versions will start at least $3,500 higher, with prices at the top of the range reaching nearly $49,000. As a result, the Blazer will in fact be considerably more expensive than competitors.
Above the entry-level Blazer L, the 1LT trim will start at $33,495 including destination, making it $1,700 more expensive than a 2018 Murano S ($31,795) and $2,505 pricier than a 2019 Edge SE ($30,990). The L and 1LT both come with a 4-cylinder naturally-aspirated engine producing 193 hp and 188 lb-ft of torque.
In contrast, all Muranos come with a 260 hp V6 and most versions of the Edge come with a 4-cylinder turbo making 250 hp. Stepping up to the Blazer 2LT gets you access to a 3.6-liter V6 making 305 hp and 269 lb-ft of torque, but brings the MSRP to $34,495.
This is also the point at which all-wheel drive becomes an option for an extra $2,700. For comparison, the Murano and Edge both offer all-wheel drive on even their least-expensive trims for an extra $1,600 in the case of the Murano and $1,995 in the Edge.
For something sportier, the new Blazer RS starts at $41,795, a little over $1,500 cheaper than the new 335-hp Ford Edge ST ($43,350). At least on paper. That's because the ST is only offered with all-wheel drive. An RS with all-wheel drive starts at $44,695, meaning it's over $1,300 more expensive.
If you're looking for advanced safety features like adaptive cruise and front collision warning, this is the point at which you can add the Enhanced Convenience and Driver Confidence II Package, a $3,575 option that brings an RS from $41,795 to $45,370. Emergency braking isn't available until you reach the Premier.
The Blazer Premier starts at $43,895, making it more expensive than both the 2018 Murano Platinum ($43,225) and aforementioned Edge ST ($43,350). Even at that point, you have to add a package to get a collision system that has the ability to apply the brakes if a crash is imminent.
The Premier offers the Driver Confidence II Package, which adds an additional $2,165. That brings the minimum price to get auto emergency braking to $46,060 with front-wheel drive and $48,960 for buyers opting for all-wheel drive.
For reference, all Muranos come with auto emergency braking, even the least-expensive styles. In the Edge, Ford now offers a bundle of standard features called Ford Co-Pilot360 that includes a blind spot monitor, lane-keeping system, emergency braking and more.
Although the Blazer is poised to provide an exciting new alternative in a popular segment, shoppers looking for the best value should look beyond the vehicle's attractive $30k base price. When it comes to safety features, buyers may be able to find a much better deal elsewhere.
This month, 2018 Muranos feature a model-year-end deal worth up to $4,500 off MSRP. Interestingly, the 2019 Edge is already eligible for 0% financing for 36 months plus up to a $1,000 bonus. Blazer deals haven't been announced yet but we'll be keeping an eye out.