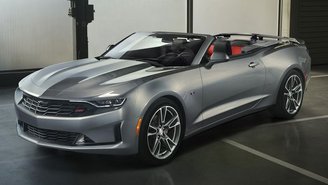 The 2019 Chevy Camaro is getting a freshened look and new performance upgrades. Order guides show it's also getting a handful of price cuts, some worth up to $3,000 when compared to the previous year.
At the entry level, the Camaro LS starts at $25,995 including destination, $905 less than last year's MSRP of $26,900. However, there are some quirks in terms of features & availability worth knowing about.
First, Chevy will no longer offer the LS with an available V6 (previously a $1,495 option). For 2019, it'll only be available with a 2.0-liter turbo making 275 hp and 295 lb-ft of torque. If you want the V6, you'll have to step up to an LT.
Interestingly, GM is adding the option to configure the LS with an 8-speed automatic ($1,495). Previously, it was only offered with a 6-speed manual. However, the order guide has the LS marked as "Late Availability", suggesting it won't be offered immediately like other styles.
Next up, the Camaro 1LT has been priced from $26,495, $1,200 less than before. It comes standard with the turbo but can be configured with a V6 ($1,495) making 335 hp and 284 lb-ft. The 2LT starts at $28,495, amount to a $3,000 price cut compared to the previous year's MSRP of $31,495.
We suspect the changes to the 2LT are related to the addition of a new trim called the Camaro 3LT ($31,995), which will features specs similar to the 2LT but with a standard V6 and the ability to add active safety features.
Apart from minor convenience features like illuminated vanity mirrors, the 3LT gets you access to a Convenience & Lighting Package ($2,800), which gets you forward collision warning and blind spot monitor, a configurable 8-inch display, head-up display, configurable 24-color interior lighting, memory seats and more.
We think it's worth mentioning that a similar package was offered last year in the 2LT but will no longer be available, which means you'll have to step up to the 3LT to get these features. The same goes for the Adrenaline Red and Ceramic White interior packages, which will no longer be offered in the 2LT.
Enthusiasts may appreciate the ability to configure 4-cylinder turbo models with the 1LE Track Performance Package ($4,500). Previously, you could only get it with V6-equipped and SS Camaros. It adds a long list of features like a satin black hood wrap and rear spoiler, 4-piston Brembo brakes, a special cooling system, performance suspension, summer tires, 20-inch black aluminum wheels and more.
Toward the top of the range, prices for SS and ZL1 styles will actually continue unchanged from the previous year, ranging from $37,995 for the 1SS Coupe to $68,495 for the ZL1. Like last year, SS models are powered by a 6.2-liter V8 making 455 hp, while the ZL1 produces 650 hp.
We suspect shoppers thinking about buying a 2019 Camaro may appreciate the new prices at the lower end of the spectrum. It remains to be seen whether or not the changes will have any effects on discounts.
2018 Camaros are eligible for a $2,000 conquest incentive when coming from a non-GM brand, plus a $1,000 bonus in places like California and Florida. GM is also giving dealers up to $4,000 in unadvertised Flex Cash incentives, for $7,000 in potential savings.
We suspect it'll be quite some time before we see discounts of this type on the 2019 model.
A GM spokesperson did not immediately respond to a request for comment. Last month, we uncovered price cuts on at least 6 of the company's models worth as much as $2,300, signaling the brand is taking a targeted approach with lower sticker prices to boost the appeal of popular trims.