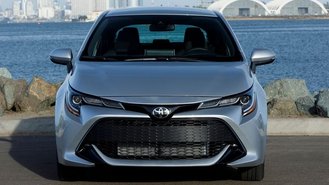 Most vehicles from Toyota offer considerable value to buyers because they come with collision mitigation, technology that can add thousands to the price tags of competing models.
For 2019, Corolla and Yaris models will be consolidated to streamline the lineup. However, order guides show that the safety systems for these models will be quite a bit different.
As a result, shoppers comparing models could be in for some confusion, especially when faced with names like TSS-C, TSS-P, TSS 2.0 and a separate low-speed collision system.
Here are the key differences, as confirmed by a Toyota spokesperson.
Key Differences
Corolla Sedan - The 2019 Corolla sedan will continue to come with TSS-P. This includes a pre-collision system with pedestrian detection, lane departure warning with steering assistance, auto high beams and adaptive cruise control.
Corolla Hatchback - Due later this year as a 2019 model, this is the new name for the Corolla iM. The car is completely redesigned and gets a new system called TSS 2.0.
Compared to the regular Corolla, TSS 2.0 adds a more sophisticated forward recognition system and the ability to detect road signs at night and day, and cyclists during the day. It also gets lane-centering and road edge detection.
Yaris Liftback - The Yaris hatchback comes with TSS-C. It includes a pre-collision system (without pedestrian detection), lane departure alert (without steering assist) and auto high beams.
Yaris Sedan - This is the new name for the Yaris iA. It will continue to come with a low-speed pre-collision system that functions at speeds of up to 18 mph. The car was developed with Mazda and isn't offered with any version of TSS.
Pictured: Corolla Hatchback