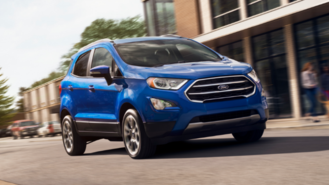 Small usually means cheap, and that happens to be the case with the 2019 EcoSport, as order guides show the subcompact SUV will start at $20,990, the same price as the previous year. This makes it one of the most affordable crossovers and, when the Fiesta and Focus go bye-bye, the most affordable Ford. However, to keep the EcoSport's price low, the vehicle will continue to not be offered with automatic emergency braking.
According to the order guide, automatic emergency braking will remain unavailable on any of the 2019 EcoSport's trims as a standard feature or even an optional extra. That's not good news from a cross-shopping standpoint, as some of Ford's competitors in the segment offer the feature as standard, while the majority of alternatives have the feature as an available option.

The Mazda CX-3, Toyota C-HR, and Nissan Kicks all have automatic emergency braking as standard equipment. The feature is available as an option on vehicles like the Hyundai Kona and Honda HR-V. Having said all that, one of the EcoSport's saving graces is its low price tag.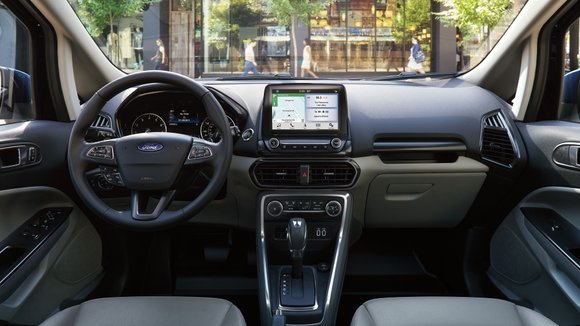 The crossover is more affordable than the CX-3, C-HR, and HR-V. The Kicks, though, is one of the cheaper options in the segment with a price tag of $18,985 and the Kona is cheaper, as well, with a starting price of $20,480.
From a value standpoint, the Kona is also more handsomely equipped with things like a seven-inch touchscreen, a 3.5-inch multi-information display, LED daytime running lights, and automatic headlights as standard, which aren't available on the base EcoSport. We'd recommend going with the Hyundai if you can get past its polarizing styling.

The cost of the EcoSport's low price reared its ugly head when we reviewed it, as we thought the cabin felt cheap with low-quality plastics everywhere. The EcoSport's 1.0-liter EcoBoost engine also felt underpowered. On a more positive note, we found the EcoSport to have loads of interior space, and with its comfortable ride and quiet cabin, we found it to be a particularly good daily-driver.