While brands like Hyundai have 13 vehicles that have earned one of the Insurance Institute for Highway Safety's (IIHS) awards, Ford just received its first one for 2019. The 2019 Ford Edge is the first Ford from the 2019 model year to earn a Top Safety Pick rating. As with many other vehicles, the Edge has to be equipped with specific headlights to meet the requirements for the rating.
The refreshed 2019 Edge earned a rating of Good in all of the IIHS' crash tests and had two front crash prevention systems that both earned a Superior Rating. That Superior rating, though, should be taken with a grain of salt. The IIHS recently conducted a more thorough test of Ford's Co-Pilot 360 system with the Ford Fusion and found that the sedan did so poorly that it failed to earn a score. With harder front crash prevention tests around the corner, it looks like the Edge squeaked out a Superior score right in time.
Headlights are an interesting thing with the Edge. The midsize SUV has four different headlights, three of which earned the lowest score of Poor. Only the Titanium and ST trims with available packages have adaptive LED headlights that were found to be Acceptable.
For the Titanium trim, you have to add the 301A package that costs $4,150. With the sporty ST trim, the 401A package that costs $5,585 has to be added to get the headlights. Both of these packages aren't exactly cheap and raise the SUV's price by quite a lot over a base model. The entry-level Edge starts at $32,185 including destination, while the most affordable way to get into a Top Safety Pick rated Edge is with the Titanium and 301A package that costs $44,005. An ST trim with the necessary 401A package is priced at $49,035.
There's another gray area. Only Edge models built after March 2019 have adaptive LED headlights that earn an Acceptable rating. Every other SUV, regardless of package, comes with Poor rated headlights.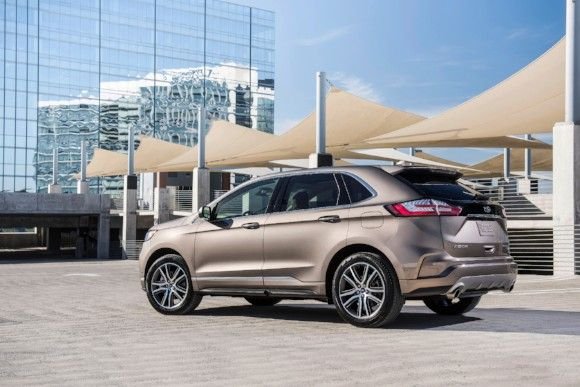 None of Ford's other vehicles for the 2019 or 2020 model year have done well enough to earn an award from the IIHS. The automaker is plagued by subpar headlights and, in some cases, the two small overlap front tests.
The Edge joins the Honda Passport, Honda Pilot, Santa Fe XL, Jeep Cherokee, Kia Telluride, Nissan Pathfinder, and Toyota Highlander as a Top Safety Pick. The Volkswagen Tiguan, Subaru Ascent, Mazda CX-9, Kia Sorento, Hyundai Santa Fe, and Hyundai Palisade are Top Safety Pick+ vehicles.